Trace Adkins, Country Star & Father
While Trace Adkins is known as one of country music's "bad boys," the tall cowboy with the booming voice has a soft heart.
No one else brings out the softer side of Trace more than his daughters, which he's made clear through his music, especially one song called "Just Fishin'."
Released in March 2011, "Just Fishin'" is a father's description of a day spent fishing with his daughter. While the daughter thinks they're just having a fun time fishing together, the narrator says that to him, the moment means so much more:
"She ain't even thinkin' 'bout
What's really goin' on right now
But I guarantee this memory's a big'in
And she thinks we're just fishin'."
This Tugs At The Heartstrings
The song's touching message resonated strongly with Trace's audience, and it claimed the sixth spot on the Billboard country charts and ninth on the year-end charts. As proof of its power, the song also earned a Grammy nomination for Best Country Song.
Congrats @TraceAdkins on the Grammy Nomination for Just Fishin' for Best Country Song!

— Sloane Cavitt Logue (@SweatandSequins) December 1, 2011
Directed by Trey Fanjoy, the music video added a more personal touch to Trace's portrayal of the song.
Shot on his farm, the video starred Trace and his youngest daughter, Trinity, who can be seen fishing and making precious memories with him in the video.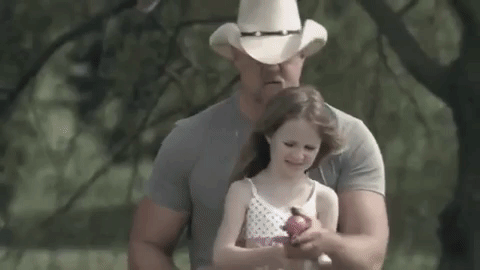 Including Trinity in the music video made Trace's connection to the song even stronger. You can tell from the way he interacts with his little girl that he fully believes in every word of the song.
It's this personal connection that has made this music video one of the most beloved among Trace's fans.