One of the best stories to come out of American Idol in years is the romance between last year's winner, Maddie Poppe, and her runner-up boyfriend, Caleb Lee Hutchinson. The couple went public with their relationship during the finale episode of the 2018 season, and we haven't been able to get enough of them since.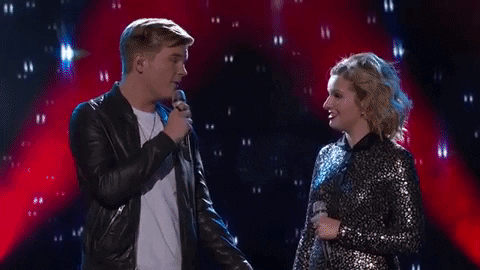 Over the course of the past 10 months, the couple has filled their social media feeds with sweet, adorable photos, further cementing their "relationship goals" status.
During Sunday night's (April 21) American Idol episode, Maddie and Caleb returned to the stage where they first fell in love and delivered a flirty rendition of "A Whole New World" from the animated classic Aladdin. Their performance was a tribute to the show's Disney Night theme that also included Disney inspired performances from this season's Top 10 contestants.
The couple has performed together numerous times since their Idol season concluded. They've appeared on national morning shows, and at each other's concerts, among other places. But, believe it or not, their favorite way to spend time together is just simply being together.
Maddie and Caleb spoke with E! News earlier this year and shared that one of their favorite pastimes include microwave dinners and television shows.
"When I look back at the year and everything, the stuff that really sticks out to me is Maddie getting to come to my house and meeting my extended family and friends and me getting to go to hers," Caleb shared. "It's the more normal type stuff that means the most."

Maddie added, "Our favorite thing to do when we are together is literally not do anything and watch Forensic Files and eat Healthy Choice meals." 
While other romances have come out of American Idol, Maddie and Caleb are one of our favorites. We think you'll know why when you watch their recent performance of "Whole New World" from Sunday night's American Idol episode. Check it out in the video below.