One Of Country Music's Greatest Stories
You've likely heard the saying that the best songs are the ones that tell a story. That's certainly the case when it comes to country music, as some of the genre's greatest works are the ones that lay out a detailed tale.
One such song is Randy Travis' "Three Wooden Crosses."
The song was written by Kim Williams and Doug Johnson, and tells the story of a wreck in which a farmer, teacher, and preacher lose their lives.
The one person who survives is a hooker, who the preacher hands his Bible before he passes away. It is revealed at the end of the song that the hooker went on to have a son, who she read to from the Bible the preacher gave to her. In another twist, the narrator reveals that boy grew up to become a preacher himself.
To honor of the farmer, teacher, and preacher, three wooden crosses were placed on the side of the highway.
Throughout the song, the narrator questions why there weren't four crosses instead. But once it's revealed that the hooker's son went on to become a preacher, the narrator sings, "why there's not four of them, now I guess we know."
Its Lasting Impact On The World
The song struck a chord with country fans far and wide, and it claimed the number one spot on the country chart, making it Travis' 16th number one single. It was also a crossover hit, and ended up resting at the 31st spot on the Billboard Hot 100.
Although Travis released "Three Wooden Crosses" in 2002, its message continues to speak to country fans and artists.
One singer named Patricia Holly says she loves the song and the "good lesson" it teaches, which is why she decided to sing it herself.
Holly had us enchanted from the first second of her "Three Wooden Crosses" cover. Her voice is as sweet as can be, with a pureness that perfectly fits the mood of the song.
Simple & Sweet
Choosing to keep things simple, Holly sang while standing in front of a white wall with a window on one side. While she sang, an instrumental track played as her source of accompaniment.
Without a cluttered backdrop or anyone else performing with her, Holly's video draws your full focus to her crystal clear voice.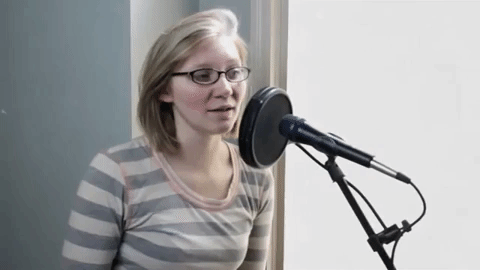 We honestly think that she could have been singing from anywhere with anyone, and we still would have been captivated by her vocals.
You can see what we mean once you watch Holly sing "Three Wooden Crosses" in the video below. If you'd like to keep up with everything she's doing, be sure to check out her Facebook page by clicking here!
With a voice like hers, we have a feeling that Holly's going to find herself right at home in the country music community.