A Tough Voice Coach Problem
One of the toughest things a Voice coach has to face is hearing a blind audition you love, but being unable to turn for the singer.
Once the coaches fill up their teams, they can't turn their chairs for anyone else, no matter how much they love their voice.
That's the exact dilemma that Adam Levine and Kelly Clarkson were facing when Texas singer Katrina Cain stepped on stage for her blind audition during Season 15. Their teams were already full at the time, so even if they thought she was the best singer in the entire world, they couldn't turn for her.
Because of this, that left Blake Shelton and Jennifer Hudson as the only coaches that could turn around.
Trying To Get Their Attention
But since the contestants don't know whose teams are already full, it can be a bit intimidating when they start singing and it seems like no one is interested in their performance. As Shelton and Hudson contemplated whether or not they were going to turn, Cain surely felt a little nervous staring at the backs of the four red chairs.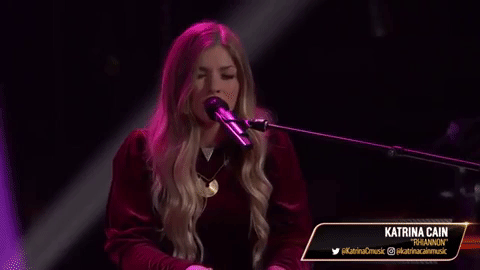 Little did she know that all four of the coaches were enchanted by her rendition of the Fleetwood Mac classic, "Rhiannon." Written by the group's frontwoman Stevie Nicks, "Rhiannon" was a huge hit upon its release, reaching the 11th spot on the Billboard Hot 100.
Decades later, Rolling Stone placed "Rhiannon" in the 488th slot on its 500 Greatest Songs of All Time list.
Finally, A Chair Turn!
Cain's gentle approach to the song had the Voice coaches hooked from the get-go. It was clear that Levine and Clarkson desperately wanted to turn for her, so they egged on Shelton and Hudson to do so.
They kept listening, and after a while it seemed like their chairs were going to remain unturned.
Then, with just seconds left in Cain's performance, both Shelton and Hudson hit their buttons at the same time.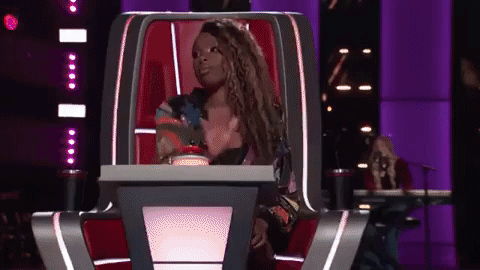 Once Cain wrapped things up, Levine expressed his remorse over being unable to turn his chair for her. He went so far as to tell her that she should have been a four-chair turn, no questions asked.
But the reality was that only two coaches turned their chairs…Hudson and Shelton. Check out the video below to watch her audition!