Monday night's Voice competition was full of country favorites with covers of hits from Faith Hill, Brooks & Dunn, Randy Houser and Jana Kramer. But, one of our favorites of the night came from Team Blake's Gyth Rigdon who sang the beloved Shenandoah hit "I Wanna Be Loved Like That."
The touching ballad was a hit for the Marty Raybon-led country band in 1993. While it never topped the charts, it is arguably one of the group's most well-known songs.
Prior to Gyth Rigdon taking his spot on the Voice stage, the singer revealed on Twitter that his performance of the Shenandoah hit was going to be dedicated to his grandparents who he wished could be sharing this journey with him.
Poured my heart out in the studio today! Monday nights performance will be dedicated to my Grandparents, who I wish could've been on this journey with me. Be sure to share this special moment with me Monday night 8/7c @NBCTheVoice! @blakeshelton #GythNation #TheVoice #TeamBlake pic.twitter.com/I22acKWRLl

— Gyth Rigdon (@GythRigdon) April 27, 2019
It was evident in Rigdon's performance that his heart was in the song as he flawlessly delivered the familiar lyrics.
An old man kneeling all alone
Plants his flowers in a garden of stone
For seven years now she's been gone
And his devotion is still going strong

I want to be loved like that
I want to be loved like that
A promise, you can't take back
If you're gonna love me
I want to be loved like that
Rigdon's performance brought his coach Blake Shelton to his feet and left those watching with tears in their eyes. It wasn't the first time Gyth brought us to tears with his voice. During his Blind Audition where he performed Uncle Kracker's "Drift Away," the singer's dad sobbed uncontrollably from the wing after Blake Shelton, Kelly Clarkson and John Legend each turned their chair.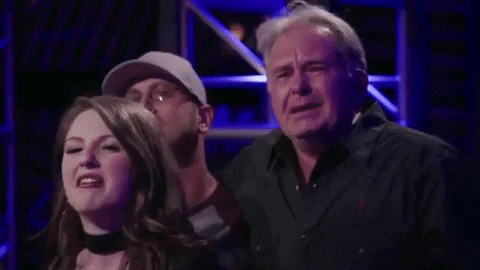 After using his only block on coach John Legend, Blake Shelton secured Rigdon on his team. "You've got the Star Search factor about you. The way you perform is like Garth," Blake told Gyth. "I would not be surprised to see you in the finale."
So far, Blake's prediction is holding true. Week after week Gyth Rigdon has continued to impress with his soulful performances. Watch Gyth perform "I Wanna Be Loved Like That" in the video below. Let us know what you think!