Many Years Of The Voice
In April 2011, a new singing competition series made its debut, and ended up taking America by storm. That series was The Voice.
Viewers were instantly drawn in to the show thanks to its unique format. Instead of having a panel of judges, The Voice sported a lineup of famous singers as coaches who picked contestants to join their teams. The coaches would then help each contestant refine their craft so they could make it to the finale.
During that first season, the faces that filled the now-famous red chairs belonged to Maroon 5 frontman Adam Levine, pop star Christina Aguilera, R&B artist and rapper CeeLo Green, and country star Blake Shelton.
Fast forward many years later, and the show is still going strong, though a lot has changed since it made its debut.
Of course, the biggest and most notable changes have been in the coaching lineup. Aguilera started coaching off and on from Season 4 up to Season 10, which was her final season. Green's last season as a coach was Season 5, though he has returned to serve as a key advisor.
The Battle Rounds continue on #TheVoice as the Coaches are joined by the following celebrity advisers: @CeeLoGreen (Team Adam), @KeithUrban (Team Blake), @ThomasRhett (Team Kelly), and @Halsey (Team Jennifer) at 8 p.m. ET on #CTV2. pic.twitter.com/mIxFYclflP

— CTV PR (@CTV_PR) October 22, 2018
Some Things Never Change
Over the years, the seats once filled by Aguilera and Green have housed a host of famous faces…including Miley Cyrus, Usher, Gwen Stefani, and Alicia Keys.
But no matter how many coaches have cycled on and off the show, Levine and Shelton always remained until Levine left following the conclusion of Season 16. Shelton himself has revealed his intention to leave The Voice after Season 23 ends in 2023.
It's hard to imagine what The Voice would be like without Shelton as a coach. His playful banter and bickering has become a fan-favorite part of the show, and has been the source of many laughs.
Blake's Go-To Tactic
Such behavior comes out in full swing during the blind auditions, as Shelton often finds himself fighting over a contestant he wants for his team
Even if someone else makes a pretty convincing argument, Shelton has a tactic that sometimes (and surprisingly) pays off. We're talking about his famous "finger point," which is when he places his hand above his head, points at himself, and wiggles his finger like a worm as a way of saying "pick me."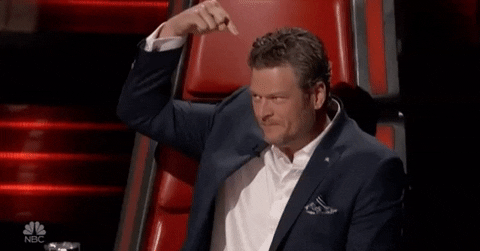 This tactic is something that Shelton has utilized since the beginning. The Voice proved this with a hilarious throwback clip that shows notable times Shelton has utilized the fingering pointing technique, starting in Season 1.
The clip then moves all the way to Season 16 (which aired in 2019).
How Much Has Blake Changed?
While it's obviously interesting to see how Shelton has used the finger point to get his way over the show's 16 seasons, the clip is fascinating for another reason. It shows us just how much he has changed appearance-wise in the eight years since the show has been on air.
The changes in Shelton's appearance aren't too drastic, but definitely notable. He has a little more gray hair now! 
One of the first previews released to promote Season 16 of The Voice was an indication that Shelton may end up with a few more gray hairs by the time the season was through. In the clip he, Levine, and Kelly Clarkson seem a bit intimidated by the show's then-new coach, John Legend.
They had every reason to be concerned…Legend has won a Emmy, Oscar, Grammy, and Tony, making him one of few people to ever accomplish such a feat. And then he went on to win The Voice!