Have You Ever Seen A Bull With Six Legs?
Buckle up y'all, because we're about to take your mind for one wild ride.
If you looked around Dale Grandstaff's farm in Middle Tennessee in 2019, you'd find a few unusual inhabitants. The Tennessee Wildlife Resources Agency officer and animal lover lets zebras run free on his property, making for an unusual sight.
But no resident of Grandstaff's farm stood out more than his then-one-year-old bull, Angus.
At first glance, Angus looks like every other bull you've ever seen, but he's far from ordinary. The coal-colored bovine actually has six legs, and his two extra limbs are located in the strangest place.
These Extra Legs Aren't Where You'd Think
As you watch footage of Angus moving around, you won't notice any extra legs tucked under his belly with the rest of them. Instead, his two additional legs and a second tail can be found on his back, right behind his head.
"There's an extra tail in between them," Grandstaff told NBC 4 News out of Nashville when they stopped by to visit the farm.
He then proceeded to show off Angus' extra limbs. "I'm actually holding them. There's one hoof on this leg right here and two hooves on this side," he said.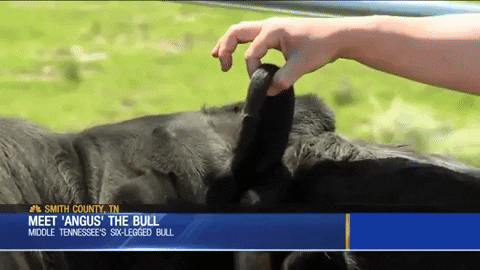 Guess What? Angus Was For Sale…
According to Grandstaff, Angus' original owner planned to have his extra legs and tail removed. But the limbs feel solid and Angus appears to have feeling in them, which makes Grandstaff think they are attached to his spine.
Grandstaff said despite the fact he's sporting a few unusual additions on his back, Angus appears to be a happy and healthy animal.
"And he's just gotten to the point over the past two or three months where he'll let me pet him like this," he said as he touched Angus on the neck near the location of his extra limbs.
Meet Angus, Middle Tennessee's six-legged bull! https://t.co/3qkwhxpdcC

— WSMV News4 Nashville (@WSMV) May 6, 2019
In 2019 NBC 4 News reported that Grandstaff was looking to sell Angus, but only to the right home. He made it clear that he doesn't want the bull's new owners to use him for meat, and "wants someone who will treat him like the unique family pet he's become."
Learn more about this magnificent animal by watching the video below.