Adding to the problems of the IRS' new economic stimulus payment tracker is another issue that may affect those people who used a tax service to get an advance on their refund.
Over the last few days, many developments have occurred in the saga of the federal government trying to get the COVID-19 stimulus checks into the hands of cash-strapped Americans. This includes the launch of the IRS' new tool to track where your stimulus payment is.
The "Get My Payment" tool was launched two days earlier than expected and the mass amount of web traffic seemed to cripple the website. In addition to that, the mass amounts of deposits flooding into millions of bank accounts at once crashed many bank's websites and mobile apps.
Luckily enough, it seems that the problem has been eased up and the system is quicker to access.
But, there is another issue for those who have been able to access it… 
Millions of people have tried to use the tool and have entered their information only to be greeted by a somewhat vague error message that says "Payment Status Not Available" and is followed by a very loose explanation.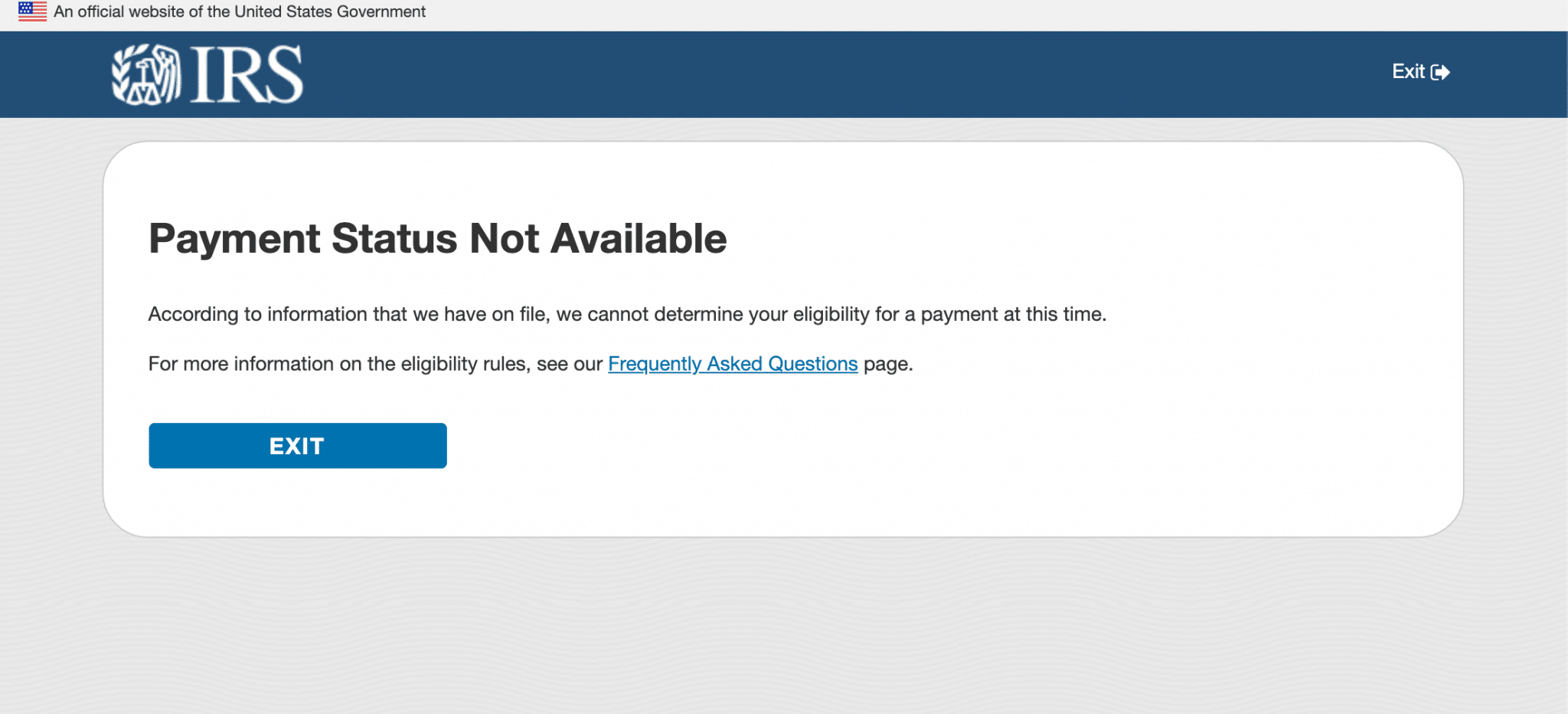 Because so many people have received this message when accessing the tool, the topic began to trend on social media sites like Reddit and Twitter.
This, in turn, forced the IRS to publish a bulletin about the error message and what it meant when a person received it.
The IRS states that if you get the message, it could be due to the following circumstances:
If you are not eligible for a payment (see IRS.gov on who is eligible and who is not eligible)
If you are required to file a tax return and have not filed in tax year 2018 or 2019.
If you recently filed your return or provided information through Non-Filers: Enter Your Payment Info on IRS.gov. Your payment status will be updated when processing is completed.
If you are an SSA or RRB Form 1099 recipient, SSI or VA benefit recipient – the IRS is working with your agency to issue your payment; your information is not available in this app yet.
One media outlet, The Verge, has tested the system and they have concluded that this appears to be a "catch-all" error message. They tried various ways of accessing the site and this presents itself in many of the circumstances they applied.
Now, it appears that some people who should have received their stimulus payment by now are showing that it's been "sent" from the IRS, but they do not have it in their bank account. This issue looks to be stemming from services that offered to give people an advance on their tax refund amount.
WATE.com reports that local experts in Memphis, Tennesse have discovered an issue with the system. The IRS tool shows payments as deposited into these third-party accounts that helped to provide the advance, but the tax preparers who hold the accounts do not have the funds.
When a taxpayer uses a "tax refund advance" they are borrowing against the return they will get from the federal government and it usually is a local tax preparer's office that provides the loan.
"Why did they deposit those checks into the third-party banks, and how did it even happen?" local tax professional Crystell Oliver told WATE. "If we can acknowledge how it happened, us as tax professionals can relay that over to our clients."
The IRS is aware of this issue, according to WATE, and they are re-issuing the advances to individual taxpayers, but there will be a delay.
Many popular online tax preparation services and offices provide tax refund advance services. Sites like TurboTax, H&R Block, and local offices of Jackson Hewitt offer the tax refund advance services across the nation.
For more information on the COVID-19 Economic Stimulus Payments, please visit the official IRS website.
See WATE's full news report below.