A Line Dance Song You May Not Know
There's something in human nature that compels us to get up and dance whenever we hear a song we like. Each genre of music seems to have its own signature dance, including country. Where country fans are considered, line dancing is the way to go.
Almost any country song can serve as the soundtrack to a line dance, but some are a more natural fit than others. One such song is "Say Hello," which was recorded by Ernie Oldfield.
Sadly, Oldfield passed away in a tragic accident in 2008 while searching for his birthplace near the German-Austrian border.
Today, Oldfield's legacy lives on in the line dancing community, where his music is extremely popular.
Oldfield's Songs Inspire Line Dancers Around The World
There's even a special section on his website that showcases line dances set to his music. These line dances have been choreographed and performed by people from all around the world.
"Say Hello" seems to be the favorite song of these line dancers. Groups in Polynesia, Italy, and China have all danced away to "Say Hello."
One of our favorite line dances set to "Say Hello" was performed by a group called the Rodeo Girls. Based in South Africa, the Rodeo Girls choreographed the entire dance to "Say Hello" themselves. They filmed one of their performances and later shared the video online so other people could learn the steps.
Y'all Can Learn It Too
The video was a huge hit, and has been viewed over ten million times since it was posted in March 2010. It's no surprise why, because the Rodeo Girls made this line dance look like an absolute blast!
The Rodeo Girls made sure to go all-out for their performance, sporting Western-style outfits complete with fringe and bright red cowboy hats. They took off with a flourish as soon as the song started, stomping their feet and twirling around the stage.
These gals never stopped smiling throughout the entire dance. Their enthusiasm is the main thing that made their dance a joy to watch!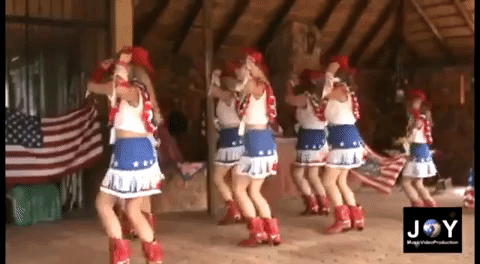 After you watch the Rodeo Girls' dance below, you'll be dyin' to learn it yourself. The moves aren't all that complicated, so you should be able to pick them up with just a little bit of practice. Since the video is so entertaining to watch, you can just keeping playing it over and over again until you have the moves down.
Tune in below to watch the Rodeo Girls dance their hearts out to "Say Hello." We love watching people who love country music!