Recently, one of entertainment's most beloved voices was asked to read the lyrics that one of his latest co-stars made famous. We are talking about Sam Elliott's voice and Lady Gaga's lyrics.
If that sounds like an unusual pairing – it isn't! Well, not anymore at least. They co-star in the new film A Star Is Born alongside Academy Award-nominated actor Bradley Cooper.
The movie opened on October 5 to incredible reviews and plenty of Oscar buzz for several actors in the film, as well as everyone behind the scenes – including songwriting, which was led by Jason Isbell, Dave Cobb, and Lukas Nelson. Lady Gaga and Cooper helped write a couple songs on the soundtrack as well.
To promote the movie, Elliott appeared on The Late Show with Stephen Colbert and the talk show host asked him if he would be willing to put his iconic voice to some of Lady Gaga's lyrics. He happily obliged, and recited lyrics from her hits "Born This Way," Poker Face," and "Bad Romance."
The way he read the lyrics, "Rah rah, ah ah ah. Ro ma, ro ma ma, Gaga, oh lala," made everyone in the audience swoon, especially because he said it while doing a cheeky eyebrow raise.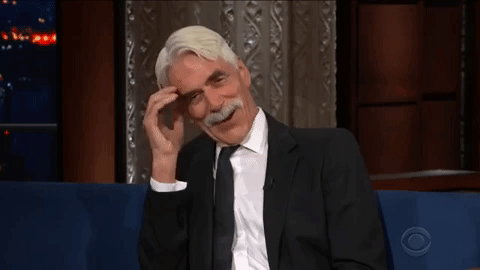 After seeing this video, we knew it couldn't be the only footage of Elliott reciting popular lyrics – and we were right! We found a video of him sitting down with Red Eye Chicago, where he was asked to read Taylor Swift lyrics. We think that it is even better than his Lady Gaga reading!
"Well…I'm gonna read this, but my apologies to Taylor Swift," he said before making sure he wouldn't get sued for copyright. We're sure Swift would be honored that he was reading her lyrics!
In his signature deep tone, the white-haired heartthrob brought her "Bad Blood" lyrics to life one word at a time. Watch Elliott's reading of "Bad Blood" in the video below – you'll be glad you did.