Every year, artists prepare their speeches and outfits as they attend another music awards show. From the CMAs to the Grammys, America's greatest talents hardly go unnoticed. But, every great show comes with its fair share of dramatic moments that no one ever sees coming.
For example, in 1975, arguably one of the most infamous CMA moments went down when Charlie Rich set the winner card on fire with a lighter after seeing John Denver's name.
21 years later, although his moment wasn't in the same fashion as the CMA incident, young Garth Brooks shocked the crowd at the 1996 American Music Awards after winning the biggest award of the night. The evening began with Brooks winning two well-deserved awards: Favorite Country Male Artist and Favorite Country Album forThe Hits.
While Brooks happily accepted those, he surprised fans when he refused to accept his following win.
The 1996 Artist of the Year went to Brooks! The audience went wild with excitement as Brooks made his way onto the stage. As he stood before the podium, his acceptance speech took quite a turn.
"Thank you very much. So you'll know right off the bat…um, I cannot agree with this."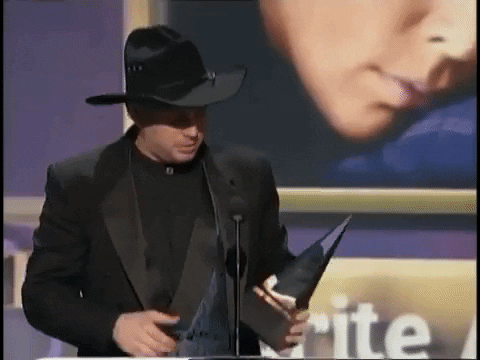 The country star went on to explain that he felt other artists were more deserving of the title. With all respect to the AMAs and fans, Brooks left the award on the podium before walking off stage.
While backstage, Brooks explained himself:
"It wasn't fair for me to walk away with that award. Maybe a year or two ago when we had a really good year." He continued, "But I've been around [the country] talking to retailers… and every one of them credits Hootie [& the Blowfish] for keeping them alive in 1995 and I couldn't agree more. So I thought that's who should've won."
The other runner-up artists for the award were completely blown away by Brooks' decision. Boyz II Men's manager referred to the act as "courageous." Furthermore, Dick Clark – the creator of the AMAs – was so in awe that he sent Brooks a personal note telling him that his statue would be put in the archive.
The Reaction
In a Billboard interview with Hootie & the Blowfish, their frontman Darius Rucker spoke about the effect Brooks' speech left on them. While the band had turned down an opportunity to play at the ceremony, the group questioned if that decision played part in them not receiving the award.
"It had been an amazing two years at that time, and we told the American Music Awards that we had played so many award shows that we weren't going to play that show. We didn't know if it was political, but Garth said it best."

Rucker goes on, "We were selling records, and bringing people in to buy other records… That was an amazing moment for us that someone that big and legendary would see what we were doing as that cool and wouldn't accept that award because he thought we deserved it. That was one of the biggest moments in our career."
An Outdated Voting Process
That same year, the Los Angeles Times revealed just how the AMA winners were and have been selected for years. According to the Times, the voting process "determines nominees by sales and radio play." The winners are picked by a "scientifically" selected vote of 20,000 music fans.
Fast forward to 2015, the America Music Awards now have changed their voting ways, opting for a less "scientific" process. The AMAs now allows anyone with a Facebook account to vote on their official website or via Facebook itself. Fans were also able to tweet in their votes during a one-month window that closed nine days before the event.
Seeing the impact that Brooks' speech made, it's no wonder why he continues to grace the country music world.
This remarkable act by young Garth Brooks will forever go down in history as one of the most memorable AMA moments.
You can watch his 1996 speech below.