Officer Gets Pig Drawn On Food Order
Timo Rosenthal, a police officer from New Mexico pulled up to the drive-through window of Burger King hoping to get a warm meal and as he ordered his lunch and it got handed to him it had a pig with a police badge drawn on the wrapper.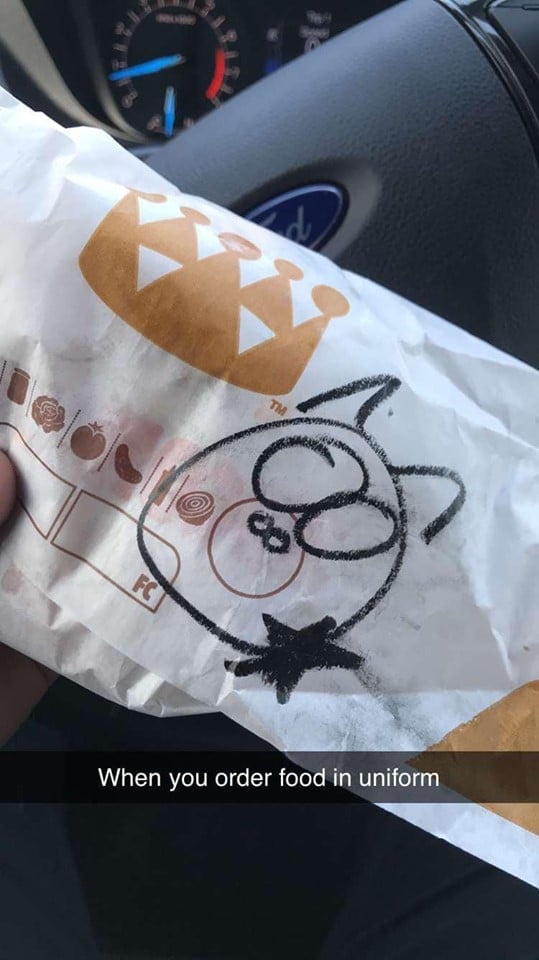 Timo posted the picture to Facebook with this statement, "Well, while on lunch break (and in uniform) I ordered food at Burger King and received this. The patties were burnt and the burger was of very poor quality. Guess that was the last time I ate at Burger King in Clovis, NM."
Post Went Viral & Burger King Found Out
His post went viral getting over 1.5 thousand shares, 4.4 thousand comments and Timo was even invited on Fox & Friends to share his story. The Burger King headquarters eventually found out about his experience and quickly fired the five employees on the spot who were working that day.
A spokesperson for Burger King said, "What occurred is unacceptable and not in line with our brand values" and they sent a catered lunch to the Clovis Police Department as a gesture of good will.
Timo said he doesn't blame Burger King for what happened but is very appreciative for the way they responded. Saying that he has a sense of humor and wasn't upset about the drawing until he found out his burger was burnt, realizing they did it out of spite.