Nicole Starts Tagging Along
Although Keith Urban and Nicole Kidman's busy schedules often keep them apart, the two make a point to be together as much as possible. This means that Kidman often tags along with her husband on tour, and yet fans hardly ever see her.
If you've been to one of Urban's concerts in recent years, it's likely that Kidman has been right there on stage and you've never known it. That's because even though she wants to watch her husband perform, Kidman is more than happy to hang out in the wings and let him have the spotlight.
Kidman does make the occasional appearance on stage, but such an appearance is so rare that it can never be counted on. Because of this, fans go absolutely nuts if Kidman makes her way to Urban's side at a show.
For example, when Urban was performing a New Year's Eve tribute to artists lost in 2017, Kidman and their two daughters made a surprise appearance. The crowd couldn't contain their excitement at the sight of Kidman and the girls.
Another Surprise Appearance
That same sense of excitement was revived when Kidman made another rare appearance at one of Urban's concerts in 2018.
Moments before Urban surprised everyone with Kidman, he made two fans' night by welcoming them to the stage. The lucky fans got the chance to meet Urban because one of them was pregnant, and wanted her baby to experience a first time on the stage with Urban.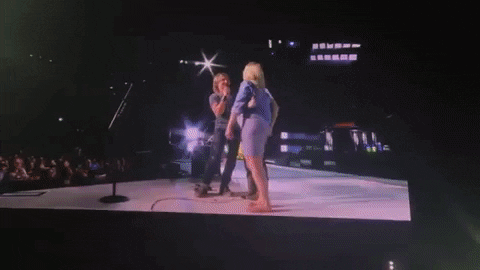 Wanting to make the moment even more special for the pair, Urban turned to the side and called for Kidman to join them. Suddenly, a timid looking Kidman made her way out on stage, greeting her husband with a kiss. To say that the crowd lost it would be an understatement.
Everyone Was So Excited To See Her
After saying a brief hello to everyone, Kidman tried to dash back off stage but Urban begged her to stick around:
"Don't you want to hang here with me a little bit?" he asked her. "Baby, you love me. We should get a picture because my wife is freaking out right now. I can tell you, you are in good hands, baby girl."
Kidman couldn't say no to that, so she took the time to stop and pose for a selfie with Urban and the two fans on stage. She definitely made their night.
You can watch the exciting moment that Urban welcomed Kidman to the stage in the video below. Maybe we'll start seeing her on the stage with him a little more often now!