If you are a viewer of The Voice, you know that the coaches will do anything to have an artist join their team. In season's past, Blake Shelton has been notorious for trying to connect to each contestant based on what city they are from pretty much since the beginning.
But Season 17 saw him embellish a bit more than we have in season's past and his fellow coaches weren't afraid to call him out. His own girlfriend Gwen Stefani got out of her chair after one Blind Audition to point her finger in his face and call him "a liar and a cheater."
"You sit on a throne of lies," Kelly Clarkson once yelled to him.
John Legend said, "I don't know how Gwen can be in a relationship with someone who has this many problems with telling the truth."
After watching a few of those clips, Shelton was walking backstage, upset that he had been so frequently called a liar. He wasn't paying attention to where he was going so he ran into a wooden plank being carried by a crew member. The collision rattled him, but he seemed to be okay.
After a while, he realized something – he could no longer lie! Everything he thought in his head, he said out loud!
The crew member asked if he was okay to go out and do the show and Shelton replied, "Yeah, I'm gonna go out there and give 25% like I always do."

He added, "By the way, your hair looks really stupid."
The Shelton asked himself, "It does look stupid but why would I tell him that?"
Then the montage went to "clips" from the Blind Auditions where he said he fell asleep during someone's performance and his head actually hit the button among other "truthful" comments. He confessed to pulling a prank on Legend and freaked Clarkson out by being so nice to her that they knew they had to get the old "liar" Blake Shelton back. The only way to get him back was the same way to got this way – he needed to get hit in the head!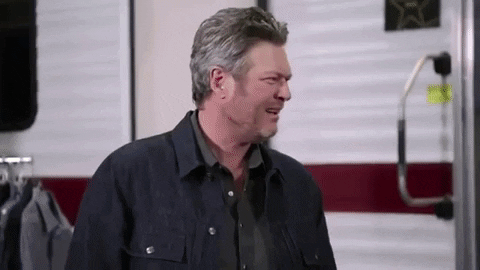 Luckily, this was all a skit for The Voice Season 17 finale! Watch it all below!