Curtis Whitson, his girlfriend, and his 13-year-old son embarked on a four-day floating and camping trip in central California back in June. Whitson wanted to show his girlfriend, Krystal, and his son, Hunter, the beauty of the Arroyo Seco – a 40-mile tributary of the Salinas River in central California.
"It's a paradise off the beaten path – a gorgeous place to take a float trip and get away from the crowds," he said. "We were all looking forward to camping along the river, under the stars."
The trip started out great and they were having a wonderful time together until the third day, when they approached a 40-foot waterfall. Their plan was to repel down a rope, but the rope was no longer there, trapping them on top of a raging waterfall with no way to turn back.
There was no way to safely get down, even with the rope Whitson had packed with him. Friends of theirs knew the trio were in Arroyo Seco – and when their expected return day was – but it could be many days before rescue crews came looking for them.
With no cell service, Whitson came up with a plan. He first carved, "We need help!" into a stick and tossed it into the water, but the stick was just circling in the water. Then, he decided to try again, this time using his Nalgene water bottle. He carved "Get Help" into the plastic bottle and put a note inside.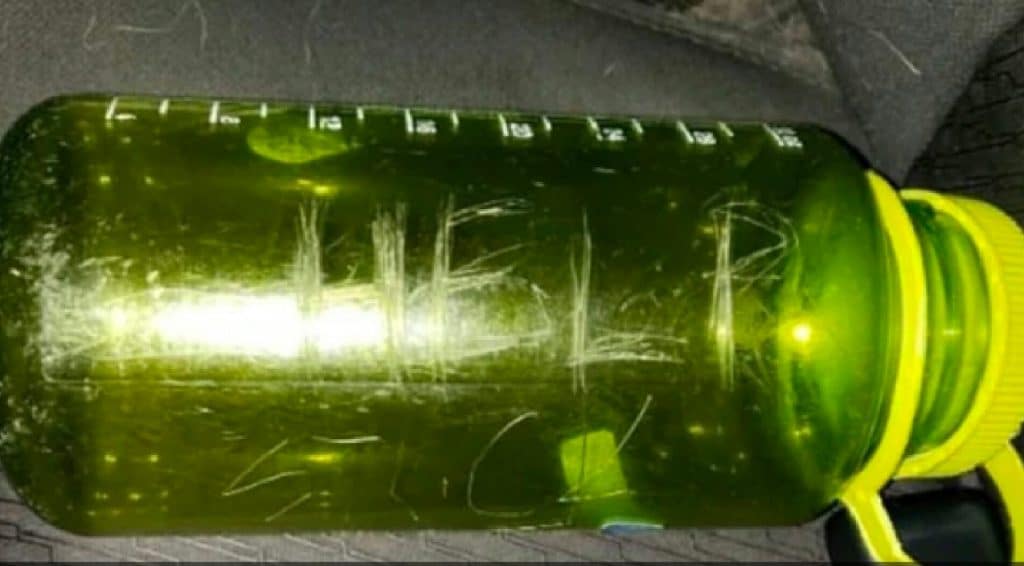 "He asked if I had something to write with, and I remembered that I'd brought pens and a bar order pad for a way to keep score playing card games," Krystal told SF Gate. "I'm very competitive."
Whitson wrote the date – June 15 – as well as their location. The message read, "WE ARE STUCK HERE @ THE WATERFALL GET HELP PLEASE."
Curtis Whitson has two strangers to thank for his family being alive today. Two brave hikers plucked a lime green bottle from a river and alerted authorities about the SOS message they found inside.https://t.co/qpQTQXDjA7 pic.twitter.com/Ig0GlnaiKx

— KSL NewsRadio (@kslnewsradio) September 11, 2019
They went to sleep that night in their sleeping bags next to a rock formation that spelled out "SOS," hoping that soon, someone will find their message. And they did!
Around midnight, they were woken up by a loud voice over a loud speaker saying, "This is search and rescue – you have been found! Stay put and we'll be back to get you tomorrow morning."
According to SF Gate, California Highway Patrol helicopter pilot Todd Brethour and his crew decided to do a flyover before the end of their shift, even though it was too dark for a rescue mission. They used night vision goggles and infrared technology to locate the family.
The next morning, CHPO returned to rescue Curtis, Krystal, and Hunter.
Pilot Joe Kingman said that in his 23 years of rescuing, this is the first time he had rescued someone because of a message in a bottle.