Just a year ago, the world learned of the passing of Brenda Jackson – mother to Dale Earnhardt Jr. and his sister, Kelley Earnhardt Miller. She was just 65 years old.
In the wake of her passing, her cherished co-workers and "work-family" got together to honor her with a very special video that will surely bring a tear to your eye.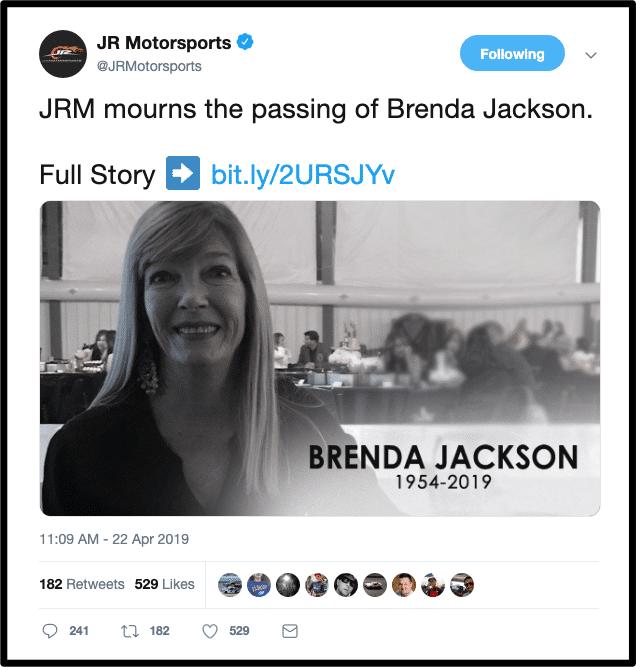 Jackson married world-famous racer Dale Earnhardt Sr. in 1972 and shortly after welcomed both her wonderful children into the world. She is also the daughter of stock car builder Robert Gee who crafted rides for multiple drivers in the 60s and 70s.
In the late 1980s, Jackson re-married and moved back to North Carolina – which was much closer to her children and her grandbabies. Kelley has three children one of which, Karsyn Elledge, is an aspiring racer like her uncle and grandpa! Dale Jr. and wife Amy, welcomed their first child, Isla, into the world in May 2018.
Upon returning to North Carolina, Jackson took up a job at Dale Jr.'s own racing team along with her daughter, Kelley, who came in to help her brother run JR Motorsports. For the last 15 years, she's been a treasured part of the office life and a part of the team who was deeply loved by everyone at JRM.
Following JRM's announcement of Ms. Jackson's tragic passing, Twitter was flooded with heartfelt condolences to the family and words of grief.
My heart is so broken. But at the same time I am so glad you aren't suffering anymore Mimi. Always your boo♥️ https://t.co/eunk6sPjMB

— Karsyn Elledge (@KarsynElledge3) April 22, 2019
In the following hours, her treasured friends and co-workers at JR Motorsports put together a video to remember her by and it's one that will show you just how wonderful of a woman she was – and how deeply loved she was by everyone who was lucky enough to be around her.
Watch this beautiful video in honor of Brenda Jackson below – and join us in saying a prayer for Dale Jr. and his family during this difficult time.