Some people out there will do just about anything for a beer. But, one Louisiana man took things to another level when he got creative in an effort to avoid DWI charges.
A Louisiana man is earning both kudos and criticism for his decision to take an electric shopping cart from his local Walmart and use it to transport himself from one bar to another. According to a report from the Terrebonne Parish Sheriffs Office, they received a call about a man arriving at the bar on an electric shopping cart. When deputies arrived they found the cart parked between two cars in the parking lot.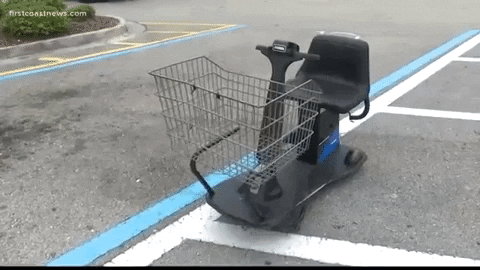 Inside the bar, they found 32-year-old Brice Kendell Williams who told a deputy that he had been at a different bar and was worried that he would get charged with a DWI if he drove his own vehicle. So, he chose to take the cart from Walmart, thinking that it was a safer option.
But, the plan backfired as Williams was arrested for "unauthorized use of a movable" and was charged with a felony. His bond was set at $2500.
What do you think about Williams' decision to take an electric shopping cart bar-hopping? Stupid or brilliant?