Luke Bryan schooled a shirtless audience member when a chiseled, handsome young man convinced the singer to let him on stage and showcase his raging dance moves!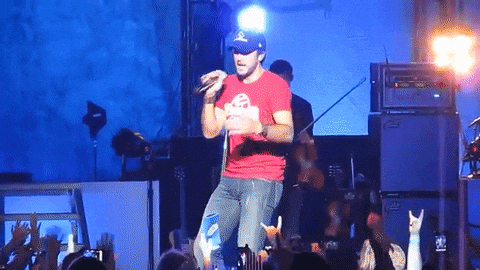 When Bryan performed his country dance anthem "Country Girl (Shake It For Me)," he asked his audience if anyone was able to "shake it" with him! After a bit of dialogue, an audience member near the stage bargained with him, in hopes of having his own dance battle against Bryan, confident he could put the singer to shame.
Bryan allowed Clay, the hot audience member sporting a cut up t-shirt and cowboy hat, on stage. Almost immediately, Bryan poked fun at his prominent muscles and his desire to "shake it for some country girls."
"Clay, don't let me down, son. Because, if you can't dance, I'm gonna really show your ass up," Bryan told the boy. Jumping into his dance solo, Clay lifted off his shirt and began emulating a borderline striptease of steamy body rolls and serious hip action.
Not impressed, Bryan told the boy he made the rookie move of getting "too excited" by the audience, essentially resulting in a mediocre dance performance. Fortunately, Bryan was ready to take back his performance as a flight of stairs was rolled onto the stage for the singer's following act.
Finishing his song, Bryan marched to the top step of the stairs as he began an insane redemption dance that put poor Clay to shame! Needless to say, the girls went beyond wild for this country boy's smooth hip rolls, deeming Bryan the ultimate dancing cowboy.
Check out this awesome moment below!