After week's of waiting, Sunday night (March 24) brought the first of American Idol's infamous Hollywood week episodes. The Hollywood rounds bring hopefuls chosen from auditions all over the country together for the most brutal cuts as they all strive to make it to the live rounds.
Throughout the audition rounds, we were introduced to contestants, their families and their stories of survival, hope and loss. One particular contestant from Texas won our hearts with his pure country performance of Cody Jinks' "Cast No Stones." Prior to his audition, 19-year old Colby Swift shared that nine years ago his mother left to get ice cream and never returned.
"It's emotional for me when I hear Colby sing, because he's gone through so much in his life. It just makes me proud. I am his biggest fan," Swift's dad said.
Swift made it through to the Hollywood round and he did not disappoint during Sunday night's performance. The talented teen sang Freddy Fender's "Before The Next Teardrop Falls" at the request of his sister. During his audition, Luke Bryan noticed that Swift had holes in the bottom of his boots.
"Both boots have holes in the bottom of them," Bryan told his fellow judges. Lionel Richie replied, "Yeah, well we can get him a pair of boots."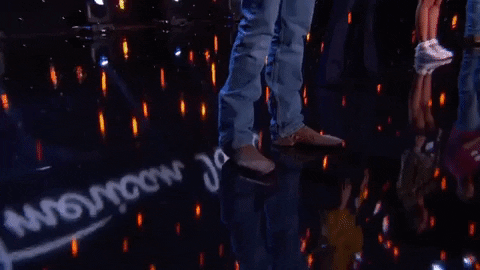 But, Luke had other ideas. When Swift and his fellow contestants returned to the Idol stage to learn their fate, Bryan asked the singer to step forward. The country star then asked Colby to show the camera his boots. Colby obliged. Luke then asked Colby his show size. "Whatever fits." Bryan then took his own boots off and handed them to a shocked Colby who seemed almost afraid to put them on.
"So, Colby…those boots are made for walking to the next round. And your whole line is going to the next round with you," Bryan told the singer.
Luke Bryan's gesture caused quite an uproar on social media as people praised the star for his kindness and huge heart.
What @LukeBryanOnline just did for Colby made me love him even more ?❤️ #AmericanIdol

— Tanya Turner (@mamaof29100) March 25, 2019
@LukeBryanOnline #AmericanIdol That was such an awesome thing to give that guy your boots. Thank you for having a humble heart.

— Mary Chaffin (@chaffin_mary) March 25, 2019
@AmericanIdol LUKE!!! I love what you did for Colby Swift!! ❤️❤️❤️

— SASunshine (@jwkwcom) March 25, 2019
I was there when @LukeBryanOnline gave Colby his boots. had water in my eyes then. have it again now. and thats real deal Luke. Hes not like that just on TV. #AmericanIdol

— Bobby Bones (@mrBobbyBones) March 25, 2019
Watch the touching moment unfold in the video below.