Meet Scotty's Longtime Love Gabi
Scotty McCreery and his wife, Gabi, have known each other since they were in kindergarten. The two were always friends as kids, but their relationship never turned romantic until they were seniors in high school, after Scotty won American Idol.
The two were inseparable from that moment on. Although Gabi used to shy away from having a public presence, she has been more willing to step into the spotlight as the years have passed.
Good thing too, because the couple soon became the source of immense media attention after they celebrated their engagement in the North Carolina mountains.
The duo returned to those same mountains for their summer 2018 wedding, which was as gorgeous as could be.
Their nuptials were filmed for a music video to pair with Scotty's song "This Is It," which he wrote for their engagement. Within days, the video generated millions of views, and has continued raking in millions more since its July 2018 release.
As the two have been settling into married life, they've been open about how being married has changed their relationship. A big change came in the fact that they are now living together, whereas they weren't before they got married.
Because of this, the two have had to learn how to juggle chores around the house while factoring in their busy schedules (Gabi works as a nurse and Scotty goes on tour).
On top of all of that, the couple also has another family member…a dog named Moose! And based on the pictures they shared of him in puppyhood, he seems like a handful!
If You Think You Know Her Name, You're Wrong
But as clued in to the newlyweds' lives as fans may feel, there's still one thing about Gabi that no one seems to know…how to say her name!
When you read it, you would think "Gabi" is pronounced like "Gabby," which is usually a shortened version of the names Gabriella or Gabrielle. But that's not how you say Gabi's name at all!
Her name is actually pronounced like Ga-bee, something that Scotty says confuses people whenever he talks about her.
"Well they hear me and they look at it and I say 'Gabi' and I just get a look," Scotty explained to country radio host Bobby Bones during an interview. "Nobody gets it right."
Even Bobby himself had messed up the pronunciation of Gabi's name when he was trying to ask Scotty how it was said!
Luke Messed It Up Most
But Bobby has no need to feel bad. It turns out that another famous face is responsible for messing up Gabi's name more than anyone else, and that someone is Luke Bryan.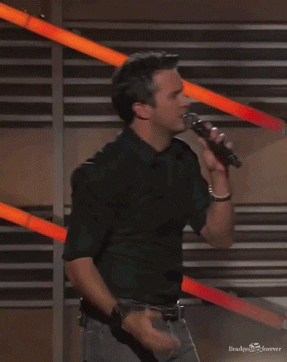 As Scotty recalled, he took Gabi and some of his friends to go meet Luke backstage at a show a few years back. He introduced Luke to all of his friends, and he repeated back the names as he met everyone. But in doing so, got Gabi's name horribly wrong.
"And this is my girlfriend Gabi," Scotty remembered saying. He said that Luke then responded with, "Hey Debbie!"
Oh man! You can bet that Scotty will never let Luke live that one down!
You can hear Scotty tell that hysterical story and talk more about Gabi in his interview with Bobby below. The whole interview is pretty entertaining, but skip to the 3:20 mark if you just want to hear the Luke story.