In the 17 seasons that American Idol has been on the air, we've seen the judges display every reaction under the sun. Shock, surprise, tears, disgust…we've seen it all. But, one American Idol contestant on Sunday night threw judge Luke Bryan off his game, and it had nothing to do with her voice.
Memorable Auditions
In 2004, 21-year-old Carrie Underwood drove from her small hometown of Checotah, Oklahoma, to audition for American Idol in St. Louis, Missouri. A visibly nervous Carrie delivered a jaw-dropping cover of Bonnie Raitt's "I Can't Make You Love Me," and earned a golden ticket to Hollywood. Following her audition, then-judge Simon Cowell predicted that she would not only win the show, but would go on to be the most successful winner in the show's history.
One of country music's most beloved artists, Kellie Pickler, got her start on Idol. Kellie was a 19-year-old carhop at Sonic Drive-In when she decided to audition. America fell in love with Pickler and her adorable, southern personality, making her an early favorite to win. She ultimately placed 6th during the show's fifth season, but went on to find success as winner of season 16 of Dancing With the Stars and now co-hosts a talk show.
But, not all auditions were sunshine and roses. Hopefuls like William Hung didn't make the final Idol cut, but gained fame for their notoriously bad auditions.
Judge Reactions
While the auditions themselves are plenty entertaining, the judges' reactions are often just as amusing…especially when the audition is questionable. No one can forget how longtime Idol judge Simon Cowell openly expressed his like (or dislike) for an audition. His one-liners were brutal, perhaps even cruel at times. "Your look is what's putting us off," he told one contestant. "Yes, you have personality, but dogs have personality. Your audition was horrible," Cowell told another.
If his words left any doubt about how he felt about an audition, his face did not.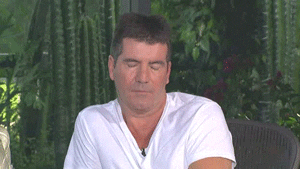 Flustered Luke Bryan
The latest panel of American Idol judges includes Lionel Richie, Katy Perry and Luke Bryan. The trio represents a more gentle side of the reality singing competition. While they appear to strive to maintain professionalism and share their honest opinions with hopefuls, they have sometimes encountered contestants that leave them unable to hide their true feelings.
One such contestant stood before the judging panel during Sunday night's auditions and left Luke Bryan feeling…uncomfortable. When 19-year-old Katie Belle walked into the room, the judges were instantly intrigued based on her looks alone. "She's like the Gisele of Georgia," Luke quipped, comparing Katie to supermodel Gisele Bundchen. Katy Perry agreed, saying she looked like a "gosh darn supermodel."
When Katie Belle began to sing "Golden Slumber" by the Beatles, Luke was so flustered that he couldn't even look at her.
All three judges voted to put Katie Belle through to Hollywood, but not without some gentle criticism about developing her own sound.
"Your sound…you have one. It just needs to be developed," Richie told Katie. "But, I love who you are. I love you. I just wanna see how far you're gonna take this."
After receiving her golden ticket, a tearful Katie Belle shook hands with each of the judges and thanked them. But, as soon as she touched Luke Bryan's hand, he fell to the floor and lay motionless, saying, "I touched her. Just the touch of a hand."
Watch Katie Belle's full American Idol audition below and let us know if you agree with Luke Bryan's reaction. And, tune in Monday night (March 18) for the final night of auditions before the Hollywood rounds.