Country Group Makes Music Magical
The first thing many people think when they hear Little Big Town sing anything is "wow, those harmonies."
Over their many years of performing together, the four members of the leading country group have learned how to perfectly blend their voices on any song they sing.
Merry Christmas @opry Thanks for having us home. ?: Reid Long pic.twitter.com/ODBa232Y1d

— Little Big Town (@littlebigtown) December 12, 2018
With talent like that, it's no wonder why Little Big Town is one of the most-awarded groups in country music history.
Entertaining Nashville
In 2014, the group was given one of the greatest honors any country act could receive when they were invited by Reba McEntire to become members of the Grand Ole Opry. They were officially inducted by Vince Gill in October of that same year, and have been one of the Opry's leading stars ever since.
In 2017, the quartet was granted yet another immense honor when they were named as the first-ever artist to have a residency at the famed Ryman Auditorium, which serves as the home to the Opry during a few months each year. They performed a number of shows at the venue throughout 2017, packing the house every time they did so.
Even though their residency is now over, Little Big Town still keeps entertaining Nashville crowds. They stopped by for another performance at the Opry, where they honored one of country music's all-time greatest figures.
This day is GOOD thanks to this Don Williams tribute from @littlebigtown! ?

Full video: https://t.co/Qgn1d894Z3 pic.twitter.com/YkzbnvpD5S

— Grand Ole Opry (@opry) December 27, 2018
Don Williams' "Giant" Legacy
Known as country music's "Gentle Giant," Don Williams was admired by artists of all genres for his smooth voice and his meaningful songs. While a number of his biggest hits were written by Williams himself, he also had a knack for choosing the perfect songs to fit his voice and image.
Two of Williams' most successful hits that he didn't write himself were 1981's "Lord, I Hope This Day Is Good" and 1980's "I Believe In You." Both songs were number one hits and beloved parts of Williams' concert sets until his passing in September 2017.
Wanting to honor the "giant" legend for his contributions to country music, Little Big Town performed both songs during their appearance at the Opry. But rather than sing them separately, the group gave the tunes a slight makeover and transformed them into a medley.
Making Two Songs Into One
They opened with "Lord, I Hope This Day Is Good," with Phillip Sweet taking control of lead vocals. He encouraged the Opry crowd to sing along with them for a brief moment before Karen Fairchild took the reins and transitioned into "I Believe In You."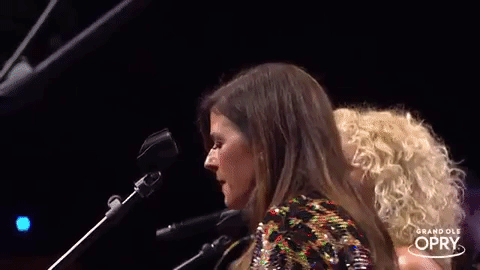 We believe that the entire audience was in awe of the group's performance. Once again, they did an excellent job at blending their voices and hitting their harmonies. The result was a wonderful medley in Williams' honor that no one will easily forget.
You can check out Little Big Town's heavenly performance of the two classic songs below.