Kane's Career Has Been On Fire
Kane Brown is one of country music's leading stars right now. But a display of kindness at one of his concerts proves that he hasn't let the fame get to his head.
After singles such as "Used to Love You Sober" and "Thunder in the Rain" made decent showings on the charts, Brown scored his first number one hit in 2017. That song, a collaboration with his former middle school chorus classmate and American Idol runner-up Lauren Alaina, is titled "What Ifs."
In addition to topping both the Hot Country Songs chart and the Country Airplay chart, "What Ifs" has been certified triple platinum by the RIAA.
After scoring so much success with "What Ifs," Brown knew it would be a challenge to follow up with another hit. But that's exactly what he did, and he earned his first solo chart-topper in 2018.
His "Heavenly" Single
"Heaven" is the song that led Brown to that achievement. Although it wasn't written by him, Brown felt a strong connection to the song because it reminded him of his then-fiancée (now wife).
Brown accompanied his release of the romantic song with an equally swoon-worthy music video. It has accumulated well over 200 million views as of this writing.
A little under a year after its release, "Heaven" was already been certified double platinum by the RIAA. So it basically goes without saying that it's a song country fans know well by now.
Sharing The Stage With Two Young Fans
Two young fans of Brown's proved just how much they love the song when the took to the stage at his concert in Philadelphia, Pennsylvania to sing it with him. Brown kindly gave each one of the boys ample opportunity to shine, and both of them rocked their solo performances.
We've seen little kids join country singers on stage before, and sometimes they get shy and freeze in front of the crowd. But not these fellas! They sang loud and proud, and made it clear they know every word to "Heaven."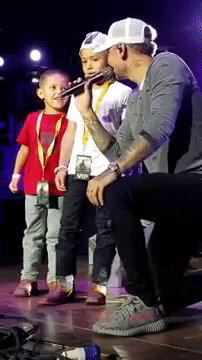 If you need a dose of cuteness to brighten up your day, you've come to the right place. Watch these young country fans pour their hearts into singing "Heaven" with Brown by tuning in to their performance below.
We're warning y'all, this is way too adorable to handle!