A Country Boy Embraces Rock & Roll
It is always a challenge to cover Queen, let alone do so in front of an audience of millions. But that's exactly what Laine Hardy did when he fought for a spot in the Top 6 on American Idol.
Even though Hardy is a proud Louisiana country boy born and raised, he has showcased his inner rocker on Idol many times. Back when the show had its all-star duets, he joined Elle King to sing "The Weight," which is known as one of the most iconic rock songs of all time.
That's just one example of how Hardy embraced a rock and roll vibe on Idol. Even when singing songs that are country by definition, he still brings a bit of that gritty, rock-like feeling to them.
So when it was announced that the Top 8 Idol contestants would be singing Queen covers to vie for spots in the Top 6, viewers knew that Hardy would excel. The song he performed was one of the British rock band's most well-known…"Fat Bottomed Girls."
"Fat Bottomed Girls" was written entirely by Queen's guitarist Brian May and was included on the group's 1978 album Jazz. The song was a smash hit around the world, and has since been certified double platinum in the United States.
It's also one of Idol judge Katy Perry's all-time favorite songs, so Hardy was under extra pressure to deliver. But based on the fact that Perry was out of her seat within seconds of hearing him sing, it soon became clear he didn't have to worry about impressing her.
PARTY WITH A HARDY FER SURE @TheLaineHardy #AmericanIdol ??

— KATY PERRY (@katyperry) April 29, 2019
Laine Takes Control Of The Stage
What Hardy did have to worry about was making sure he displayed a strong and confident presence on stage.
If you recall, the young singer was originally eliminated from the rebooted Idol's first season due to a lack of confidence. While he's improved in leaps and bounds since then, he still finds it challenging to let loose on stage and seem at ease.
But if you didn't already know about his lack of confidence, you could never tell based on how he acted during his performance of "Fat Bottomed Girls." He fully embraced his inner rock star, and drove the ladies wild as he stepped to the front of the stage and touched their hands.
The performance was capped off with bursts of smoke and flashing lights. That's when Hardy really let loose, running from side to side and jumping into the air at the tail end of the song.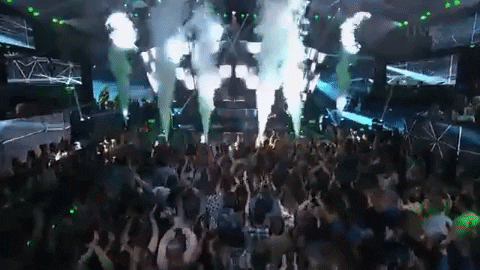 All of the judges commented on his newfound confidence, saying that he was finally finding that comfortable spot that he struggled to find before. The viewers were equally impressed, and they voted him through to join five other contestants in the Idol Top 6!
Be sure to check out Hardy's scorchin' hot performance of "Fat Bottomed Girls" by tuning in to the video below. He owns the stage with this one!