Halloween isn't typically viewed as a romantic holiday. But one man named George used it to make a heartfelt pledge of love to his girlfriend of ten years.
Kelly Clarkson went all-out for her first-ever Halloween episode of her talk show, The Kelly Clarkson Show. The set of the show was covered in Halloween-themed decorations, and Clarkson dressed as Bette Midler's famous character in Hocus Pocus.
Her costume was quite impressive!
So when Kelly learned that a fan named George loved Halloween, and also wanted to propose to his girlfriend, she helped him craft a dream Halloween proposal.
"You asked for help making Halloween more special for Kristen, right?" Kelly asked George.
He responded "yes," and said that he had been working with Kelly to make something for Kristen. He then led her over to an open area of the stage and directed her attention to a screen.
A short silent film began, and showed George playing a vampire in scenes that appeared between bits of text. At the end, the screen read, "Kristen…will you marry me?"
It took a second for the question to register with Kristen. Once she realized what was going on, George was getting down on one knee and opening a ring box.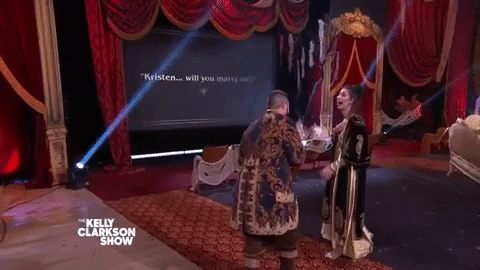 "Are you serious? Oh my God!" Kristen said after kissing George in excitement.
The audience cheered as George slipped the ring on Kristen's finger. He then revealed the ring was a family heirloom, telling everyone it was his grandmother's.
"I'm shaking," Kristen said after hearing that from George.
The couple hugged for a little while before an excited Kelly joined in to celebrate with them. You can watch the entire proposal unfold in the video below.
George made their engagement memorable, that's for sure!