If you're not already excited for Season 16 of The Voice, the Blind Audition the show just released definitely will get you there.
This season poses to look a little different than the last few seasons not only because of the addition of John Legend, but also because they are going back to the three male coaches, one female coach format, when they've had two female and two male for the past five seasons.
On Friday (Feb 22), The Voice released a sneak peek audition on their YouTube channel of hopeful Kim Cherry singing the TLC song "No Scrubs." While the group is in the pop/rap/R&B world, Cherry's delivery of the popular 1999 song was impressive enough to get two unlikely coaches to turn for her –  Blake Shelton and Kelly Clarkson.
Almost every TLC song has a rap break in it, because their member Lisa "Left Eye" Lopez was a skilled rapper. Not only did Cherry sing the song, as well as adding her own runs and adlibs, she also performed the rap part, which completely stunned all the coaches.
Clarkson was about to press her button to turn for her, but when Cherry started rapping her face was priceless and she said, "I have to!"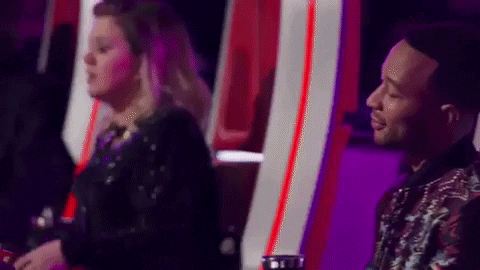 Eventually, the "Love So Soft" singer was joined by Shelton, who also was impressed enough by Cherry to fight for her to be on his team. When the performance was over, Legend and Adam Levine were excited to watch the longtime friends duke it out.
"What the hell were you thinking?!" Shelton asked her. "Oh my god, you just went for it! The fact that you chose that song shows me how fearless you are."
 By trying to sway her to his team, he revealed that rapping is his thing, despite what everyone thinks. 
"I don't know if you've ever heard one of my songs called 'Boys 'Round Here', but I lay it down," Shelton said.
Shelton also said that if she picks him, she will be all over Twitter and people will be talking about it because of how different they are. Clarkson's tactic then went to making fun of Shelton, and Levine and Legend ganged up on him as well.
Both put up a good fight, but Cherry can only pick one coach. Watch Cherry's audition below, and tune in next week to find out who she chooses.