Santa Stars In Christmas' Most Flirtatious Song
There are no shortage of Christmas songs out there about Santa Claus. The cheery man in red has been the subject of Christmas tunes from years, from the childhood favorite "Up on the House Top" to the centuries-old "Jolly Old Saint Nicholas."
Santa has also been the subject of more humorous songs as well. Such songs include "I Saw Mommy Kissing Santa Claus" and "Santa Looked a Lot Like Daddy," penned by country legend Buck Owens.
Then you have what may be the most flirtatious Christmas song ever written, "Santa Baby." Typically sung from a woman's perspective, the song has the narrator begging Santa to treat her to extravagant gifts such as diamonds, a convertible, and a yacht.
A Little History
Like many Christmas tunes, "Santa Baby" isn't a new song by any means. It was originally recorded by jazz artist Eartha Kitt and released in October 1953.
But today's most recognizable version of "Santa Baby" didn't come around until 2000. That version, recorded by Australian-British pop singer Kyle Minogue, reached the 38th spot on the UK Singles chart.
The song has since been picked up by a number of artists, including Trisha Yearwood, Taylor Swift, and Nashville's Clare Bowen.
One of the most famous country renditions of the song was recorded by another blond bombshell…Kellie Pickler. And if you've never heard it before, you'll definitely want to now.
An Unforgettable Country Rendition
Pickler originally recorded "Santa Baby" for a country Christmas compilation album that was released in 2007. This came just one year after she finished in sixth place during the fifth season of American Idol.
In 2010, Pickler was invited to revisit the sultry track for the CMA Country Christmas special's debut year. Dressed in a flattering red gown and matching gloves, Pickler entertained everyone with a fun and flirty performance.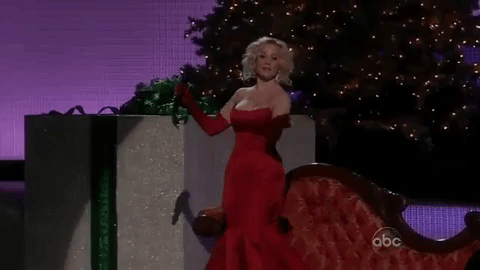 You can tell that Pickler had a fun time showing off her steamy side in the performance. She really got into the theatrics of the whole thing, which is a huge reason why her performance was so enjoyable to watch.
On top of all of that, Pickler also used the song to display her talents as a vocalist. At times she was singing in a near whisper, and at other points she was belting out notes with bursts of passion. In both moments, she showcased immense control over her voice.
Prepare to be charmed by Pickler's magical rendition of "Santa Baby" when you watch her 2010 CMA Country Christmas performance below. It's something you could tune in to over and over again and never get tired of watching!