Kellie Dances Her Way Into America's Heart
You could say that Kellie Pickler is country music's queen of reality TV. We were first introduced to the bubbly blond singer on the fifth season of American Idol, which aired in 2006.
She placed sixth in the competition, and her career took off from there.
Seven years later, Kellie returned to reality TV when she signed on for Season 16 of Dancing with the Stars. She was paired with professional dancer Derek Hough, brother to country singer and dancer Julianne Hough.
Fast Track To The Mirror Ball Trophy
Kellie and Derek were frontrunners from early on in the competition, and earned the top score from the judges for six of the season's ten weeks. Thanks to the judges' scores and votes from fans, the two were declared the winners of the season.
One of their dances that won over the judges and viewers was their week three jive. The theme that all of the dancers had to follow was "Prom Night," so Kellie and Derek chose a song associated with one of the most famous prom scenes in movie history.
The song Kellie and Derek picked was Kenny Loggins' "Footloose," which was part of the soundtrack to the film of the same name.
"Footloose" plays during the final scene of the movie, during which all of the teenagers celebrate their newfound freedom by dancing up a storm.
Embracing The Prom Theme
Derek also has a connection to Footloose that made it a no-brainer for him to dance to its title song. When the film was remade in 2011, Julianne starred in it as one of the main characters, Ariel Moore.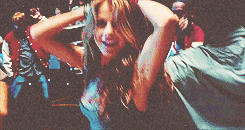 We're sure that Derek and Kellie made Julianne proud with their spunky jive to "Footloose" on Dancing with the Stars. The fast-paced routine was full of kicks and other cool tricks. Kellie even broke into the splits!
Scroll down to the video below to relive Kellie and Derek's electrifying "Footloose" jive. The two ended up earning a score of 25 out of 30 for the dance, and it's no surprise why!