Singer, dancer, actress, choreographer…Julianne Hough can do it all. Now she's returning to television to put all of those skills to use!
America first fell in love with Julianne Hough as the sweetheart of the dance floor on the hit television competition Dancing with the Stars during the show's 4th through 8th seasons. With two mirrorball trophies under her belt, Hough moved from professional dancer to judge, all while launching a country music career and landing her first acting roles.
Hough's first lead acting role came along in 2011 when she starred as Ariel Moore in the remake of the 1984 cult classic Footloose. It was the first of several movies that Julianne would star in, including the film adaptation of the Broadway hit Rock of Ages, and Safe Haven, a movie based on the Nicholas Sparks novel of the same name.
Julianne's diverse background has now led her to what may be the role of a lifetime. In a huge shake-up on the immensely popular reality talent competition America's Got Talent, Hough will be taking on the role of judge alongside Simon Cowell, Howie Mandel and new judge Gabrielle Union for the Summer 2019 season. Hough and Union will be replacing long-time judges Heidi Klum and Mel B.
"One of the many secrets to the success and longevity of America's Got Talent is its fearless drive to reinvent itself," Meredith Ahr, president of Alternative and Reality Group, NBC Entertainment, said in a statement. "The next evolution of the format brings in fresh expert eyes to join Simon and Howie on the panel. Gabrielle and Julianne are two of the most aspirational women in the business, on top of being electric entertainers with talent across disciplines. I am excited to see how their knowledge, compassion and sheer joy enhance the experience for acts and viewers alike."
This won't be Julianne Hough's first time in the judge's seat. In 2013, she filled in for veteran Dancing with the Stars judge Len Goodman, becoming the first ever pro dancer to return to the show as a judge. In 2014, Hough became a permanent fourth judge on the panel.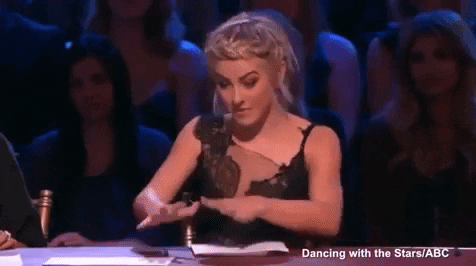 The multi-talented artist shared the news of her return to television on social media Monday night, saying, "It's officially official, I could not be more excited to announce I will be a judge on the upcoming season of @agt!! ? The talent on this show is absolutely outstanding, and I have no doubt this next season is going to WOW. Performing my entire life, I feel intimately connected to the artist's journey, and am so excited to be a part of that for each and every contestant."
Julianne will be an incredible addition to America's Got Talent! Tune in to NBC this summer to see her in action.