The world was rocked by the news Joey Feek had lost her long battle with cervical cancer in February 2016, and the world of country music hasn't quite been the same ever since. While Joey may no longer be with us here on Earth, fans have been able to find solace through her music.
Joey + Rory paid tribute to Merle Haggard's "Fightin' Side of Me" at the Equiblues Rodeo back in February 2011. Joey was full of life in their high-energy performance radiating warmth throughout the crowd. The country duo was joined on stage by fellow singer Steve Carter making for an exciting musical event.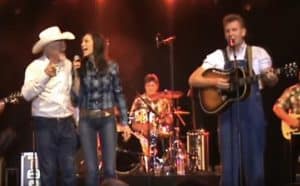 "Fightin' Side of Me" was written and recorded by country music legend Merle Haggard in late 1969. The song was the lead single and title track to his 1970 album and went on to become the most famous song of his career.
You can relive the magic of Joey in the video below.