In Hollywood, relationships are lucky to last for more than a couple of months, but Kurt Russell and Goldie Hawn have survived the test of time.
Russell and Hawn have a 38-year love story that is rare in the entertainment industry. Russell serves as a father figure to Hawn's children from a previous relationship, but the couple also welcomed a son together. The couple's only child together, Wyatt Hawn Russell, is now 35 years old, and he is the spitting image of his parents.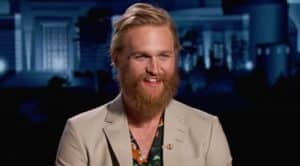 Wyatt has followed in his parents' footsteps and is a successful actor in Hollywood; he even landed a main role in the new Marvel Disney+ series, The Falcon and the Winter Soldier. Still, despite Wyatt's natural talent, his first dream was to pursue a career in hockey. Wyatt was so passionate about the sport that his parents even relocated the family to Vancouver so that Wyatt could play for a junior league. 
Eventually, Wyatt played hockey for the University of Alabama-Huntsville before later playing professionally in Europe. Wyatt played the position of goalie; however, his athletic career was cut short due to a hip injury when he was 24. Only after his hockey career came to an end that he pursued a career in acting.
Finally watched Falcon and the Winter Soldier. Well done, lots of fun. I'm really going to love this next MCU run.

Also how about Wyatt Russell! From USHL and Ontario Junior Hockey League goalie to Captain America. Decent glow up. pic.twitter.com/nqKL02KaYQ

— ᴀʀᴅᴀ Öᴄᴀʟ (@Arda) July 30, 2021
For more on Wyatt, check out the following clip.