An Idol Star Finds His Footing
If you've been watching the rebooted American Idol since its first season, you are probably amazed to see how much contestant Laine Hardy has changed since then.The teen appeared on the initial season of the reboot, but was eventually eliminated from the show.
At that time, the judges felt that Hardy didn't have the confidence he needed to be a strong presence on stage, which is why they sent him home.
In the year that followed, Hardy worked on refining his craft and becoming more confident. In the meantime, he posted cover videos on his YouTube channel, including one noteworthy rendition of Elvis Presley's "Blue Suede Shoes."
How He Made His Return
Hardy eventually found himself back on Idol, though he never planned to return to the show. In a now-famous moment, he showed up to play guitar for a friend's audition and was then asked by the judges to audition himself.
It took a little convincing, but Hardy gave in, and delivered a performance that left the judges in awe. They couldn't believe how much his voice and his stage presence had improved in just a year's time.
Feeling that he was more than deserving of a second chance, the judges offered Hardy a golden ticket to Hollywood, which he accepted!
From there, Hardy continued to wow everyone who tuned in to Idol with his many swoon-worthy performances. He quickly became a fan-favorite, and found his way into the Top 14.
Breaking Out The Dance Moves
Finally, as a member of the Top 14, Hardy's fate was left to the viewers instead of the judges. Knowing he had millions of people to impress, the young singer pulled out all the stops by performing another Elvis Presley classic, "That's All Right."
Channeling Presley, Hardy moved around the stage throughout his performance and threw a few dance moves in for good measure. Anyone who watched him perform on the previous Idol season likely couldn't believe their eyes as they saw how confident he was acting.
He seemed completely at home on the stage, and not the least bit uncomfortable like he had the year prior.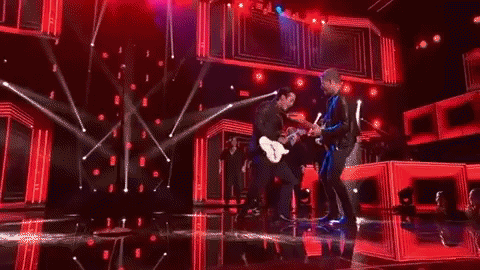 The Fiery Elvis Cover
By the time Hardy's red-hot performance concluded, all three judges were on their feet. They showered him with compliments, with Lionel Richie telling him he was "on fire."
The judges also noted how this performance was a nice way of showcasing Hardy's newfound confidence, and that they wanted to see even more from him in the future.
This young man is well on his way to heartthrob status thanks to performances like these! You can watch him groove his way through Presley's "That's All Right" by tuning in to the video below.
No wonder why Hardy later went on to win his season of Idol!