Elvis Has People Seeing "Blue" On Christmas
Out of all of the versions of "Blue Christmas" that exist, Elvis Presley's is the most well-known. He recorded the song in 1957 for his Christmas LP Elvis' Christmas Album, but didn't release it as a single until 1964.
Once it was available commercially, "Blue Christmas" became a hit on the charts in both the U.S. and the UK.
Elvis' future wife, Priscilla Presley, didn't know him when he first recorded "Blue Christmas." In fact, she never even got the chance to see him perform the song live until he sang it during his 1968 Comeback Special, which took place the year after they married.
What Did Priscilla Think Of It?
In a video shared to Elvis' official YouTube channel, Priscilla took the time to speak about what her initial reaction was to hearing Elvis sing "Blue Christmas" live for the first time.
As you'd expect, she was overwhelmingly impressed.
"We were all blown away, especially me, because I had never seen Elvis perform live the whole time that I was with him because he was doing movies," she said.
Even though Priscilla and countless others loved Elvis' rendition of "Blue Christmas," it was the source of scandal when it was initially recorded, and in the years immediately following. 
Elvis was no stranger to causing a stir, since he had long been shamed by part of the public for his dance moves, which were deemed risque for the time.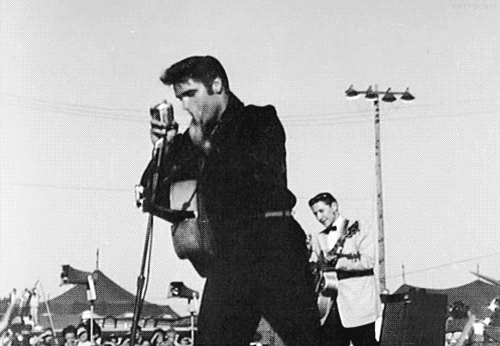 What Was The Issue?
During her interview, Priscilla spoke candidly about the scandal that surrounded Elvis after he released "Blue Christmas." Although she didn't know Elvis when his version of "Blue Christmas" made its debut, she was well-aware of the scandal it brought forth:
"It was a very bluesy, very sexy rendition of the song. I know it caused quite a stir on his first album, 'Elvis' Christmas,' back in the day. Because that's exactly what people were talking about, was how, you know, he was affecting our youth, his morals were terrible, he was the devil because of the way he moved. So I'm sure, which it did, cause a lot of stir back in the day."
But despite the initial hiccups it faced, Elvis' version of "Blue Christmas" has since gone on to become a classic.
This is something that comes as no surprise to Priscilla, since no one has ever been able to mimic the way that Elvis sang it.
"Let's just put it this way, no one has ever been able to duplicate it," she said with a giggle.
You can tune in below to watch Priscilla's interview in its entirety. What do y'all think of what she has to say in it?