We're sure you've noticed that the Voice coaches wear the same clothes during the blind auditions. That's because the blind auditions are taped in advance, and don't necessarily air in the order they occurred.
So even though the auditions are not filmed in one day, the coaches wear the same clothes throughout the blinds in order to maintain continuity.
But that's not why Kelly Clarkson poked fun at Blake Shelton for always wearing the same clothes while they were filming the start of Season 17. Instead, she teased him because he tends to always wear the same thing no matter where he is.
If you've been a longtime Voice viewer or just a longtime Shelton fan in general, then you know what his signature look is. A dark, button up shirt (sometimes with a jacket of some sort) and a pair of jeans.
Clarkson's jab at Shelton's fashion sense came in an outtakes clip The Voice shared on its YouTube channel. In the video, Shelton can be heard saying "I'm accepting suggestions," which prompts Clarkson to say "Wear different clothes!"
Then Gwen Stefani jumped in to defend her man, telling Clarkson, "Don't mess with my boyfriend!"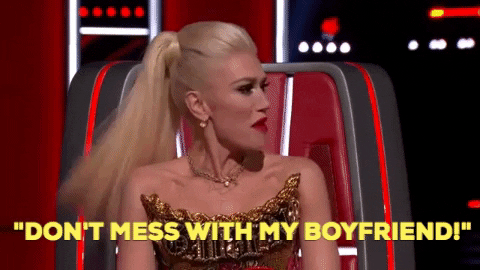 Clarkson wasn't fazed, and continued teasing Shelton, saying, "Wear one different pair of jeans." The crowd was cracking up over that comment!
Clarkson also experienced her own fashion fail in the outtakes clip. Toward the beginning, the coaches could be seen relaxing backstage with host Carson Daly. When they had to get up, Clarkson said she didn't need help because she didn't have her shoes on.
Moments later when the gang was getting ready to go out on stage, Clarkson panicked when she realized she wasn't wearing her shoes.
"I'm sorry I don't have my shoes!" she said. One of the crew members could be heard asking her, "Did you forget your shoes again?" so apparently this wasn't the first time Clarkson left her shoes behind.
You can watch that hilarious moment and many others in the Voice outtakes clip below. It will give you a good laugh!