YouTube user and amateur videographer Michael Delaney knows rattlesnakes. One peak at his YouTube channel will reveal that Delaney has no fear of the venomous reptiles as he often shoots footage of rattlesnake dens using his GoPro or Sony Action Cam.
Hailing from Winifred, Montana, deep in the heart of Big Sky Country, Delaney's videos have gone viral on a few occasions. But, perhaps his most chilling footage came about by accident. Roughly three years ago, Michael strapped a GoPro to a hockey stick and stuck it into a den full of slithering rattlers. As the camera nears the pit, the familiar sound of rattles can be heard.
The snakes seem somewhat unfazed by the intrusion at first. But, eventually the angry vipers begin striking the camera, causing it to come off of the stick.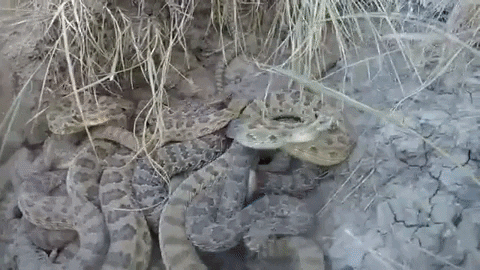 As you can imagine, that left Delaney with a predicament. Leave the GoPro or figure out a way to get it out? Fearless Delaney simply used the hockey stick to scoop the camera out. Footage shows Delaney standing on the edge of the den, rattlesnakes just inches from his feet, as he works to retrieve his camera.
He succeeds and shared the footage for all to see. Watch the drama unfold in the video below. Check out more chilling rattlesnake videos from Michael Delaney by clicking here.