Garth Brooks has a heart of gold. For years, stories about the singer's good deeds have spread far and wide. During his three-year, 390-concert World Tour that ran from 2014 to 2017, Brooks' generosity touched nearly every city in his path. He helped hopeless romantics propose, expectant parents reveal their baby's gender, paid for honeymoons and visited children's hospitals.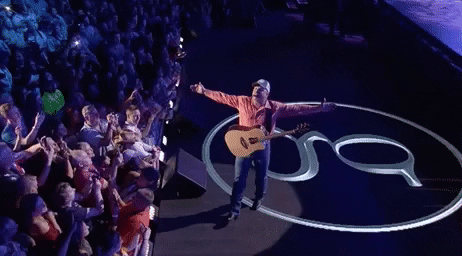 It appears that Garth is once again taking the spirit of giving out on the road. Brooks' highly-anticipated Stadium Tour kicked off Saturday (March 9) in St. Louis, and one very special guest was there at the singer's request.
Indiana native Victoria Frederick is a long-time fan of Garth Brooks and was disappointed when she had to miss his concert at Notre Dame last year. Frederick, who has terminal colon cancer that has spread to her lungs, was undergoing chemotherapy and was too week to attend the concert.
Victoria's family attended without her, but made sure that Brooks found out about Victoria's story. The "Friends In Low Places" singer sent the woman a personal invite to attend any concert that she chose, and he was going to make sure she got there with VIP treatment.
"Hey, Vicki. Garth Brooks here. I heard you were supposed to be here, but you got something that you're fighting. So, here's the deal," Brooks said. "Me and you are gonna have a date. We're gonna make up for this. When you start to feel better, you tell me where you want to go on the tour, I'll fly you there. Okay? You come see us. You have all of our strength, all of our love."
So it seems my son Ean Frederick has "Friends in low Places". He told some one he knew about my journey. Then last night before the Garth Brooks show that I wanted to attend so badly but couldn't because of my health. I got this video from my kids who were there. I am going on a date with a Class Act!! All expenses paid VIP Guest to whatever show I feel good enough to attend to see Garth Brooks. I was so emotionally high last night and shed many joyful tears!

Posted by Victoria Robert L Frederick on Sunday, October 21, 2018
Frederick chose to attend the Stadium Tour kickoff in St. Louis, and she was not disappointed. Frederick, along with her husband and two kids, not only attended the concert, but shared a special moment with Garth backstage.
"He gave me a hug and told me he was praying for me and understood my fight was a tough one," said Frederick.
Victoria's son, Ean, recounted his mom's special night on Facebook, saying, "Garth fulfilled his promise to mom…It kicked off Friday night with talking for several minutes with [Garth's crew]. Then we were escorted to the front row of the stadium for the whole soundcheck which had about 75 people in attendance," Ean wrote. "Then we were escorted back stage on a golf cart to a hallway. That's when Garth appeared and surprised mom with a hug and great conversation and words of encouragement, and took photos. Then we went back to the hotel. And then, of course we had the concert Saturday night. It was a fantastic weekend that revolved around her."
In an interview with KMOV4, Victoria Frederick shared that meeting Garth wasn't the only highlight of the weekend. When Garth Brooks began playing her favorite song, her husband asked her to dance, making it a night Victoria and her family will cherish forever.
This one deserves a post of its own. Dad hates crowds but for this adventure he braved them. When Garth played his favorite song which happens to be Momma's favorite as well. Dad got up and asked mom to dance. How sweet and precious this moment was….

Posted by Emily Frederick on Monday, March 11, 2019