Some crazy things have happened over the course of American Idol's many seasons. But one event that occurred during the 2020 season has to be the all-time craziest thing to happen to date.
Judges Luke Bryan, Katy Perry, and Lionel Richie were in the middle of filming auditions when they suddenly got a whiff of gas. The smell grew stronger in a short amount of time, and Perry said she was starting to get a headache.
They alerted the crew, and everyone rushed out of the building. Crew members went into the room where hopeful Idol contestants were waiting and had them evacuate.
One woman was interrupted in the middle of her confessional interview and was told she had to get out of the building right away.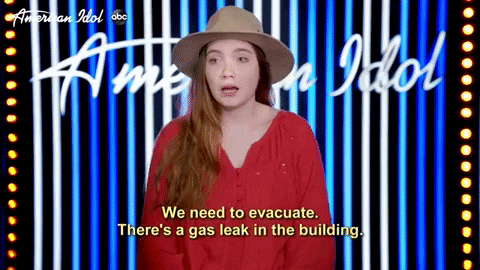 The firefighters arrived as the contestants, crew, and judges were rushing outside. The smell of the gas gave all of the judges a bit of a headache, but it seemed to bother Perry the most.
Not long after making it outside, Perry collapsed to the ground, complaining about how much her head hurt.
The firefighters made their way inside and quickly found the source of the leak. They told the Idol cameras the leak was coming from the pilot lights in the kitchen.
Thankfully, the firefighters were able to see to the issue. It wasn't long before they announced the coast was clear and the building was safe to enter.
To celebrate, a trio of firefighters went in the audition room and treated the judges to a performance of Richie's "All Night Long." They also danced as they sang, and the judges joined in the fun.
At the end of their celebratory performance, Perry thanked the firefighters by giving them each a golden ticket.
You can watch the gas leak drama and the firefighters' "audition" by tuning in to the video below.
Hats off to the firefighters for responding so fast to the call on the Idol set. We're glad that no one was hurt!