Legendary entertainer Donny Osmond is recovering at home after undergoing surgery to repair an undisclosed injury to his shoulder.
The 61-year old revealed that he was going to have surgery on Friday (January 4) in a humorous video posted to Instagram. In the video, Osmond donned a hospital gown and hair net as he joked about the impending procedure.
"I'm here in the hospital. I'm just about to have shoulder surgery. The nurse told me to mark my right shoulder with the word 'yes' so they get the right one. Instead of that, I wrote this…" Osmond said before showing his shoulder marked with a bullseye and 'cut here' written with a marker.
Hours later, the "Puppy Love" singer followed up with a photo letting fans know that his surgery was a success and he was home recovering. His only complaint? "My doctor gave me the cold shoulder," Osmond wrote.
While Osmond hasn't revealed the extent of his injury, his caption indicates that it is a result of dancing. Donny has maintained an intense schedule alongside his sister, Marie, for their Las Vegas show called Donny & Marie. The show consists of decades worth of hits and intense choreography. In 2009, Donny competed on the 9th season of Dancing With the Stars and ultimately took home the coveted mirrorball trophy.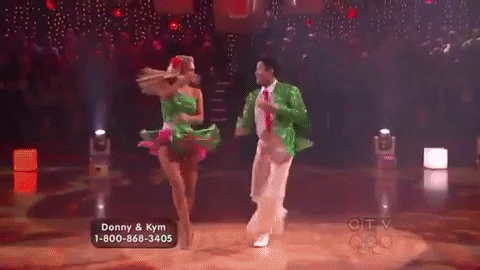 Donny Osmond first rose to fame as a teen, years after performing with his family band. A teen heartthrob in the '70s, Osmond made a name for himself as a soloist with his like "Go Away Little Girl" and "Puppy Love." Donny has maintained a successful career as a performer and as a television personality with roles that include co-hosting events such as the Miss America pageant and numerous game shows.
News of Osmond's shoulder surgery comes roughly a week after his youngest brother suffered a stroke. Jimmy Osmond was onstage in Birmingham, England, in the role of Captain Hook in a production of Peter Pan two days after Christmas when he had the stroke. Donny and Marie took to social media to ask for prayers for their brother.
Prayers for my brother Jimmy ?? https://t.co/XfjGHDMEf7

— Marie Osmond (@marieosmond) December 31, 2018
We wish both Donny and Jimmy full and speedy recoveries.