Just a little over a year ago one of NASCAR's best-known drivers and the son of a legend himself lost his beloved mother at just 65 years old.
Dale Earnhardt Jr. and his sister Kelley Earnhardt Miller shared the news of their mother's passing on April 22nd, 2019 with a message posted to their team's website. The message, both heartfelt and heartbreaking, was one that expressed their mother's love, passion, and devotion for her family.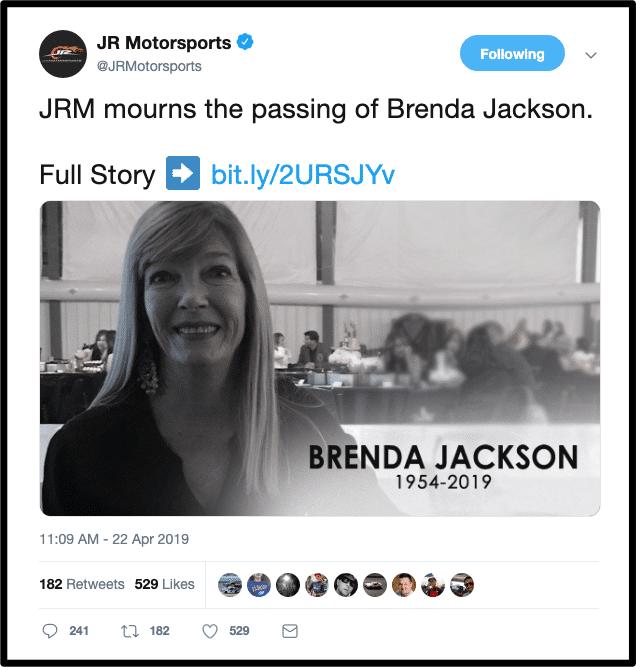 While it has been a couple of months since Brenda's passing, both Dale Jr. and Kelley got a sign from their mother up in heaven during a very special occasion honoring her memory this week.
On July 17th, 2019 both kids and their mother's side of the family got together for dinner at Dale Jr.'s place in North Carolina and the entire group of them spread her ashes on her favorite hillside on his property – as she had asked them to do.
As they were all hugging and saying goodbye to one another, something appeared in the sky that nobody had expected to see – and it was clearly a sign from Brenda smiling down from above.
"Mothers side of the family got together for dinner tonight," Dale wrote on Instagram. "We planned to do this monthly as a way to remain connected and a part of each other's lives."
His sister also shared a beautiful statement about spreading their mom's ashes together and posted a photo of her drive off of Dale Jr.'s property that is truly breathtaking.
"As we all were saying our goodbyes at the end of the evening, there was a rainbow straight off the front door of the house," Dale continued alongside a photo of the beautiful sight. "What an amazing ending to a special day."
His wife, Amy, was the one who explained it was a sign from Brenda, saying "She was definitely with us this evening…"
What a beautiful moment for the family.