Cody Comer, who is from Carthage, Missouri, began posting on his Cody Comer Music Facebook page on March 12, 2019 to share his music with his friends, family, and now, his fans. His wife Chandra had been telling him for a while to put videos of him singing on Facebook, and he finally listened!
Good thing, because if he hadn't, we wouldn't have ever seen this incredible video!
The first video he uploaded – twice – was of him singing "Deep Elem Blues" by Grateful Dead on March 12. Combined, it has around 69,000 views, which is quite a bit for a brand-new artist on Facebook!
Little did he know that his second video ever, and third upload, would go completely viral. On March 13, Comer posted a sweet video of himself singing Merle Haggard's "Twinkle Twinkle Lucky Star" to his newborn baby.
As classic country fans, we obviously loved the song choice, but it was how the baby was sleeping that caught our attention. While he was strumming his acoustic guitar, his adorable daughter was fast asleep on top of it!
"My wife asked me to see if I could get our daughter to take a nap today because her and the ladies were busy doing something so we took a nap daddy's way!!! And it works every time!!" he captioned the video.
It has circulated on Facebook so much that it now has over 38 MILLION views! It's clear everyone loves this sweet father-daughter moment.
According to his personal Facebook page, Comer is a subcontracted cowboy at Block Cattle Farms and Feed Lot, and a humble one at that. He responded to a few of the 46,000 comments on the video, at one point saying, "I didn't think that quietly singing a lullaby would attract so much attention."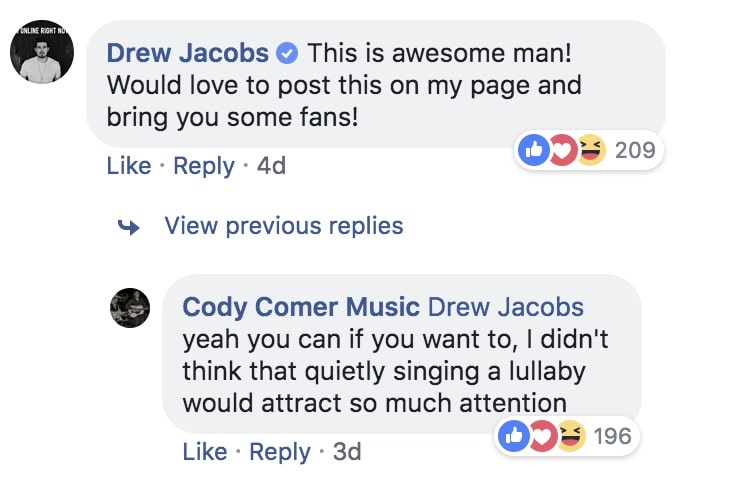 After you watch the video below, you will be in awe of the connection Comer has with his daughter, and how much he adores her.