Nearly 25 years ago, Shania Twain started her meteoric rise to fame when her second single, "Any Man of Mine," shot to the top of the charts. The dance-worthy tune earned Twain two Grammy nominations and remains one of her most successful songs. One 'Voice' contestant is hoping that the Twain-penned tune will bring her the same success.
18-year-old Rebecca Howell was chosen by her coach, Kelly Clarkson, to go head-to-head against Team Legend's Beth Griffith-Manley in Monday night's Cross Battle round. Howell took the stage where she delivered a rousing performance of "Any Man of Mine" that had the entire audience on their feet.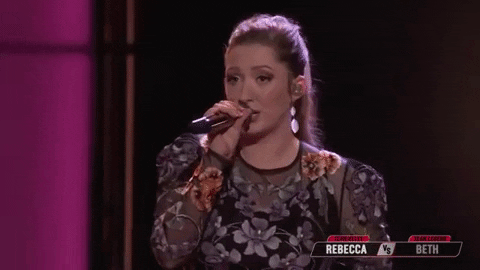 With a confidence of someone who has decades of experience, Howell worked the stage and took the Shania Twain hit to another level with her incredible range. Rebecca will find out if her performance was enough to save her Tuesday night (April 23) when half of Monday night's performers will be sent home.
Rebecca Howell first won us over during her Blind Audition where she sang the notoriously difficult Reba tune, "The Night the Lights Went Out In Georgia." As soon as Howell began to sing during her Blind Audition, coaches Blake Shelton and Kelly Clarkson immediately recognized the familiar opening rift of the Reba classic. It was Kelly who turned first and she did so within seconds of hearing Rebecca Howell's voice that sounds eerily similar to Reba herself.
Blake Shelton followed suit, as did John Legend who admitted that he would be an "unorthodox choice" for the country singer, but argued that R&B and country are close in style.
"You were subtle in the right spots. When you had to belt you did the right thing," Legend told Howell. "I was very enthusiastic to turn around when I did."
Surprisingly, Kelly Clarkson didn't play the "Reba's my mother-in-law" card, but she did throw out some solid compliments that any country music hopeful would be delighted to hear. "You almost have this Lee Ann Womack vibe which I love. She has a great voice!" Kelly said with resignation feeling that Howell was sure to pick Blake Shelton as her coach regardless of how hard the other coaches fought for her.
But, Howell shocked everyone when she chose to join Team Kelly with hopes that the undefeated coach will earn her third straight title with the singer.
If Howell's latest performance is any indication, she may very well be on her way to a Voice win. Hear Rebecca Howell sing Shania Twain's "Any Man of Mine" in the video below and let us know what you think of her performance.