Christmas Light Shows Amaze Thousands
When it comes to Christmas decorating, people take all sorts of approaches. Some do nothing at all, others go for just the bare basics, while others pour a ton of time and effort into making their house look perfect.
Then of course, you have the people who are decorated for Christmas all year round!
If I keep my Christmas lights on my front porch all year long ! Am I a red neck woman ? Asking for a friend ?

— JAKEit (@jmakeitrains24) July 8, 2018
Others go all-out with their outdoor Christmas decor, and design spectacular light shows synced to music.
Country fans have created some of the best Christmas light shows to make their rounds online. Some of the most popular videos show displays set to tunes by the likes of Luke Bryan, Florida Georgia Line, and Brenda Lee.
One of the most-viewed country Christmas light shows is synced to a song we're sure y'all know well…"Dueling Banjos." While the iconic "Duel" has been around for decades, it was made famous when it was played during a scene in the film Deliverance.
Patriotic Light Shows Are Popular
Another country song that often serves as a backing track to Christmas light shows is Lee Greenwood's patriotic classic, "God Bless the U.S.A."
You don't have to search for long to find a bunch of dazzling light shows created in honor of America and its military. One well-viewed video features a mashup of "God Bless the U.S.A" and the various military branches' songs.
But no matter how many "God Bless the U.S.A." Christmas light show videos you've watched, we guarantee you've never seen any quite like the one we have to share with you here.
This particular display was set up at a home in Milton, Washington, and featured some of the most elaborate light work we've ever seen. While lights surrounding the house and roof flashed in various patriotic colors, a tree of lights displayed words and moving images.
You Won't Believe Your Eyes
But the most spectacular part of the entire show was a giant, screen-like display that played flashing words and videos.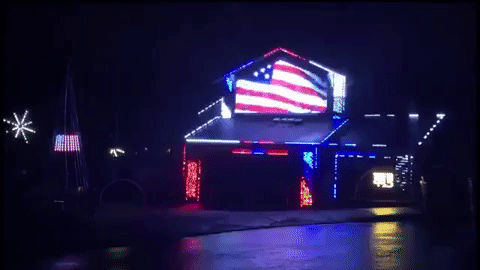 Like the previous light show we shared, this show also played a mashup of the various military branches' songs. To accompany each song, images and words representing its accompanying branch flashed throughout the display.
You can tell that a ton of time and effort was spent on this outstanding display of patriotism and respect for our nation's Armed Forces. Go ahead and admire it in the video below.
The folks who designed this light show won Christmas, that's for sure!