Chicken Chain Introduces New Products
People get pretty passionate about their favorite foods, and a lot of people consider the offerings at Chick-Fil-A to be some of their favorites.
From crispy chicken sandwiches, to ice-cold lemonade, and of course, the golde waffle fries, the fast food chain has a little something for everyone to love.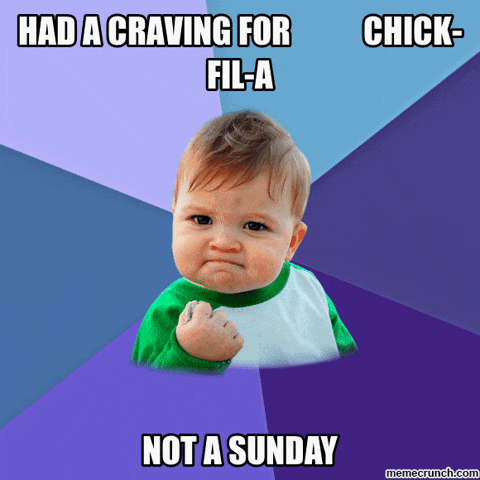 Every now and then, the chicken chain will step out of the box and debut a new product that leaves all of its loyal customers buzzing. Recently, Chick-Fil-A revealed it would be introducing fish sandwiches and fish "nuggets" to provide options for customers observing Lent. Those who observe Lent do not eat meat on Fridays the period, but are allowed to have fish.
The fish items will be available at Chick-Fil-A for a limited time, until April 20. Customers were excited to hear about the new menu items, and so was the staff!
Rose's are red | The ocean is blue | Welcome to Chick-fil-A | We sell fish here too! ?
Our Fish is finally back!! ? Try it as a Sandwich or just the fillets for a limited time! #CFAFVH #ChickfilaFishSandwich pic.twitter.com/SRCYZr1WaM

— CFA Fairview Heights (@CFAFVH) March 6, 2019
A Favorite Drink, Gone
Now, Chick-Fil-A is introducing another new product, though it comes with a catch. It's replacing a customer-favorite menu item.
Last year, Chick-Fil-A released a seasonal drink called the "Frosted Sunrise," a creamy springtime beverage made of the chain's special vanilla Icedream and Simply Orange Juice. The drink was only available until June 2, 2018, and customers have been anxiously awaiting its return ever since.
The reactions to the Frosted Sunrise were overwhelming positive, with those who tasted the beverage gushing about it on social media.
So, if you've never had a Frosted Sunrise from @ChickfilA, you really probably should! ?☀️ pic.twitter.com/WqnD18LfvX

— susan (@scsusan1516) April 30, 2018
IF YOU HAVENT TRIED THE FROSTED SUNRISE FROM CHICK-FIL-A (its orange juice smoothie with vanilla ice cream) STOP WHAT YOURE DOING AND GO TO YOUR NEAREST CHICK-FIL-A NOW

— big vicc energy (@toriahoang) May 3, 2018
google: what are the long term effects of drinking a @ChickfilA frosted sunrise every day since they came out?

— Amanda (@amanda_e_day) April 21, 2018
@ChickfilA please never discontinue the frosted sunrise

— zach baus (@zachbaus) April 29, 2018
But we've got some bad news for y'all. On Friday (March 15), Chick-Fil-A confirmed that the Frosted Sunrise is not returning this spring, or any time at all for that matter.
Thanks so much for being a fan, Caleigh! At this time, we do not have plans to bring back the Frosted Sunrise but we appreciate your feedback & hope you'll try one of our new menu items!

— Chick-fil-A, Inc. (@ChickfilA) March 15, 2019
Instead, the chain has introduced a new seasonal beverage as its replacement.
Meet The Replacement
The new drink, called Frosted Key Lime, was unveiled on Thursday (March 14). It was initially tested in Austin, Texas during the Fall of 2018, and was deemed popular enough to release on a nationwide scale.
Those who take a sip of the Frosted Key Lime drink will enjoy the tastes of the restaurant's vanilla Icedream mixed with its signature lemonade and a natural, sugar-free lime flavoring.
According to Chew Boom, the cost of the new drink is $3.25 for a 16 oz serving.
The Frosted Key Lime drink will only be available until May 25, which is a slightly shorter run than the Frosted Sunrise was on in 2018.
Since the Frosted Sunrise isn't coming back, tune in to the video below to watch one Chick-Fil-A employee whip up the drink right before your eyes. Then you can make it at home whenever you want!
What do y'all think of the this Chick-Fil-A news? Are you sad to see that the Frosted Sunrise has been shelved? Are you willing to try the Frosted Key Lime drink instead? We have to say, it looks pretty delicious!