Carrie Underwood is in the home stretch of her pregnancy with her second son, and it appears that every day tasks are becoming a little more difficult due to her growing belly.
In an adorable new video shared by the expecting mom, who is rumored to be due in January, she reveals that she can no longer tie her shoes. But, her husband Mike Fisher and their 3-year-old son Isaiah came to her rescue. The video shows the handsome duo helping Carrie tie the laces on her sparkly silver sneakers. When Mike tries to help Isaiah out, the toddler makes it clear that he has it under control.
The reigning CMA Female Vocalist of the Year announced her pregnancy in early August along with news of her 2019 Cry Pretty Tour that will kick off in May, giving her a few months to adjust to being a mom of two before hitting the road.
"Mike and Isaiah and I are absolutely over the moon and excited to be adding another little fish to our pond," the 35-year old said in her Instagram video announcement.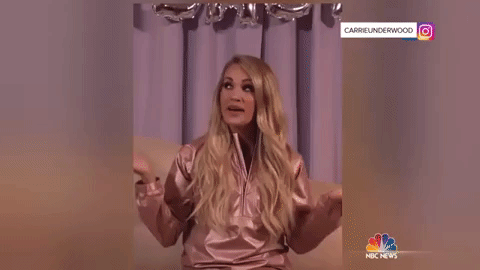 Carrie had hoped to keep the news a secret for awhile longer, but was forced to share when she realized that she couldn't keep her baby bump hidden any longer.
"I was like, 'I guess today's the day. I can't hide this anymore," Underwood explained to PopCulture.com. "Going to the grocery store and it's 90-something degrees outside and I'm in giant hoodies. It was just time to put it out there."
A few weeks after announcing her pregnancy, Carrie made a surprise appearance at Keith Urban's Graffiti U Tour stop in Nashville. She joined the country crooner to sing their chart-topping duet "The Fighter" and gave fans their first glimpse of her adorable baby belly.
Fans have been on belly watch ever since and are anxiously awaiting the arrival of Baby Fisher. Thankfully Carrie and her hubby have kept us satisfied with plenty of photos in recent weeks, like this adorable family photo taken of the trio in matching pajamas at Christmas.