Before Carrie Underwood won the fifth season of American Idol, she had to go through the grueling audition process that included singing in front of producers before she even was able to perform for judges Simon Cowell, Randy Jackson, and Paula Abdul.
#AmericanIdol: Simon Cowell, Paula Abdul & Randy Jackson bring us back in time https://t.co/Xma99rweJ3 pic.twitter.com/3qwlKiaCGa

— HollywoodLife (@HollywoodLife) April 6, 2016
After she blew them away with her a cappella cover of Bonnie Raitt's "I Can't Make You Love Me," the judges sent her straight to the Hollywood Round, where things didn't go as smoothly as she had hoped.
Performing soul singer Candi Staton's song "Young Hearts Run Free" on day one of the Hollywood Round, the now-superstar completely forgot the lyrics and to save herself, hummed through the parts she forgot. The judges looked worried, seeing as Cowell had predicted her advancing all the way to the finals during her first audition.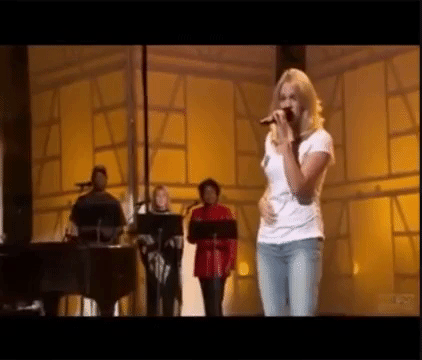 She didn't let that flub get her down. Underwood came back the next day and delivered a stunning rendition of "Independence Day" by Martina McBride, completely flooring the judges as well as her fellow competitors. After she sang the final note, the theater erupted in applause.
Someone told her, "Hey little mama, you knocked it off the box," and she had to ask another competitor if it was a compliment, which it was! Of course, we know how her story ended. She advanced through Hollywood week and dominated pretty much every live show before she was named the champion!
Watch her forget the lyrics, and then recover, in the video below.