The countdown is on as Carrie Underwood and her husband Mike Fisher await the arrival of their second child. The American Idol champ is due in January, and if her latest social media posts are any indication, Baby Fisher will be arriving sooner rather than later.
In her most recent post, Underwood put her bare growing belly on full display while cuddling with her almost-four-year-old son Isaiah on New Year's Day. In the black and white photo, Isaiah's head rests on Carrie's belly that is bared under a rolled up black t-shirt. "Kicking off 2019 right…Me and my boys cuddled up watching a movie. Yes, I'm wearing Mike's shirt," the caption reads.
Some of Carrie's most recent posts indicate that she could be due any day as every day tasks are becoming more difficult, thanks to her growing belly. In an adorable video shared by the expecting mom she reveals that she can no longer tie her shoes. But, her husband Mike Fisher and their 3-year-old son Isaiah came to her rescue. The video shows the handsome duo helping Carrie tie the laces on her sparkly silver sneakers. When Mike tries to help Isaiah out, the toddler makes it clear that he has it under control.
The reigning CMA Female Vocalist of the Year announced her pregnancy in early August along with news of her 2019 Cry Pretty Tour that will kick off in May, giving her a few months to adjust to being a mom of two before hitting the road.
"Mike and Isaiah and I are absolutely over the moon and excited to be adding another little fish to our pond," the 35-year old said in her Instagram video announcement.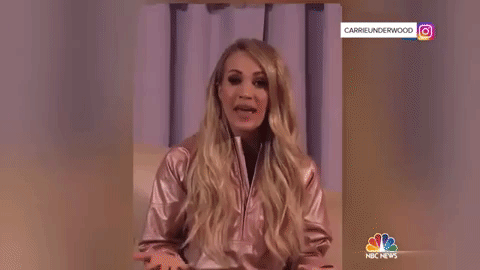 With the help of her CMA Awards show co-host Brad Paisley, Underwood revealed the gender of her second child during the opening monologue of the 2018 awards show in November.
"Remember last time when I accidentally revealed the gender of your baby?" co-host Brad Paisley said.
Underwood replied, "I mean, who could ever forget #Bradblewit?"
"Tonight we're going to reveal something even more exciting," Paisley said with a grin. "Who the father is. Mike, we're all rooting for you buddy. What's your gut feeling? Seriously, Carrie give me a little baby hint. Johnny or June? Keith or Nicole? Garth or Trisha? Tim or Faith? George or Tammy? Waylon or Willie?"
Carrie finally caved and replied in faux frustration, "Oh my gosh, Willie! It's a Willie!"
The "Jesus, Take The Wheel" singer and her husband are keeping the new baby's name tightly under wraps, but one of Underwood's fellow country stars and soon-to-be tour mate let it slip that the new arrival would be making an appearance in January. According to Taylor Dye, half of the country duo Maddie & Tae, baby Fisher will be roughly four months old when they hit the road with Carrie for her Cry Pretty Tour in May. Dye let Underwood's due date slip during an interview with Us Weekly at the 2018 CMA Awards on November 14.
"January," Dye said. "We've already offered to babysit."
The big question is….What day in January will baby Fisher arrive? Post your guesses in the comments below.