Baby makes four! Congratulations are in order for country superstar Carrie Underwood and her husband, retired NHL player Mike Fisher. The American Idol winner gave birth to a son, "in the wee hours of the morning on Monday [Jan 21]."
Carrie announced the baby's arrival in a photo posted to her Instagram account with a caption that read, "Jacob Bryan Fisher entered the world in the wee hours of the morning on Monday…his mom, dad and big brother couldn't be happier for God to trust them with taking care of this little miracle! Our hearts are full, our eyes are tired and our lives are forever changed. Life is good..."
Jacob is the second child for Carrie and Mike who are also parents to 3-year-old Isaiah. If you swipe through the photos in her Instagram post above, you can see the sweet moment Isaiah and Jacob met for the first time. So adorable!
In an interview on CBS Sunday Morning shortly after revealing that she was expecting, the singer shared that she had suffered three miscarriages before prior to this pregnancy. The heartbreak made for a trying year for Carrie who was also recovering from a devastating fall that left her with nearly 50 stitches in her face. The trials were the inspiration for her comeback single "Cry Pretty," a song that speaks about the difficulty of putting on a smile you're hurting.
"Throughout the whole process, you know, I'm writing and, like, literally right after finding out that I would lose a baby, I'd have a writing session, I'd be like, 'Let's go. You know, I can't just sit around thinking about this. Like, I wanna work, I wanna do this,'" Carrie told CBS News. "'Cause I would literally have these horrible things going on in my life, and then have to go smile and, like, do some interviews or, like, do a photo shoot or something, you know? So it was just kind of, like, therapeutic, I guess."
The "Jesus, Take the Wheel" singer was candid about the moment she cried out to God after thinking she was suffering a fourth miscarriage.
"Mike was away just for the evening, and I texted him, and I was like, 'I don't really want to be alone, so I'm just gonna go snuggle with Isaiah.' And I don't know how I didn't wake him up, but I was just sobbing," Underwood said. "And I was like, 'Why on Earth do I keep getting pregnant if I can't have a kid? Like, what is this? Shut the door. Like, do something. Either shut the door or let me have a kid.'"
Two days later, Carrie went to the doctor and was told that the baby was fine! Shortly after, she took to Instagram to share the news with her fans, saying, "Mike and Isaiah and I are absolutely over the moon and excited to be adding another little fish to our pond.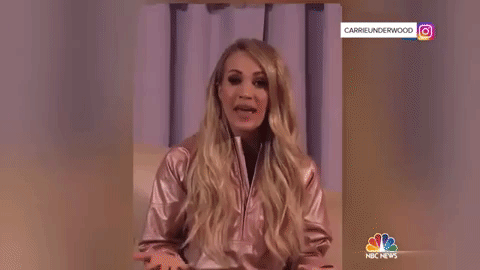 We are thrilled that baby Fisher is finally here! Join us in congratulating Mike, Carrie and Isaiah on their new addition by commenting below.