Starting now until the end of November 2019, this Ford dealership in South Carolina is offering customers who buy a vehicle a Bible, American Flag, and a voucher for a Smith & Wesson AR-15 from the local gun store.
Located in a small town that sits in the northwestern part of the state, this dealership has seen people drive up to two hours to come get their freebies and buy a new rig.
Normally, the town of Honea Path, South Carolina doesn't get this much national media attention – but nowadays, they're making the evening news with an advertisement they started running in the local paper.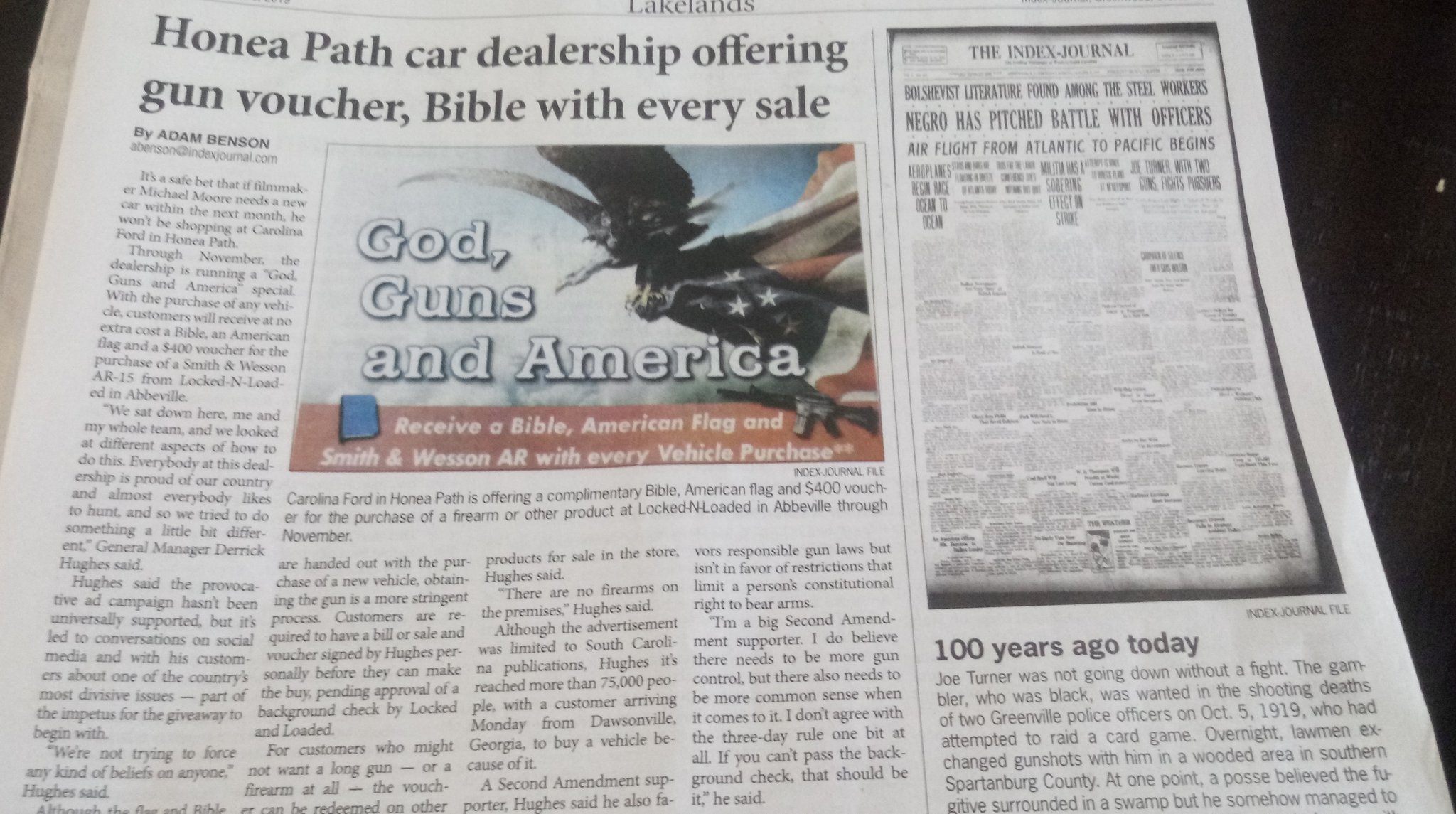 Carolina Ford's "God, Guns, and America" sale was created after general manager Derrick Hughes and his team got together to find a way to reach more customers – and it centered around parts of life that are important to them.
"We love America, we love God and we like to hunt," he told Fox Carolina. "We live in a small town where a lot of people like to hunt. [The promotion] appeals to our demographic."
For customers, they not only receive the gifts with their purchase, but they also are supporting people who value similar things. That's why one man drove more than two hours to buy a vehicle from them, the manager said.
For those interested – they will receive the Bible and flag at the time of purchase and then get a voucher for the AR-15 from nearby gun store Lock & Loaded in Abbeville.
The gun shop will run a background check before they can redeem the voucher. The voucher may also be used as store credit to purchase another firearm or product sold there. Alternatively, customers may opt to have the voucher's value deducted from the car purchase total.
Hughes says that after this promotion ends, the dealership is looking to run a different one for Christmas that helps families in need.