For over 30 years, Bud Light has been a truly proud supporter of the LGBTQ community…but this year they are turning their signature aluminum bottles into a splash of color by dressing them up in a bright and eye-catching new paint scheme.
For the first time ever, this limited-edition bottle will be available for a short time to celebrate the annual World Pride Month, but you'll be able to find them nationwide once they go on sale.
The best beers are those served with Pride. Cheers to another amazing #GLAADawards, @BudLight! pic.twitter.com/zGCq4Stivh

— GLAAD (@glaad) May 5, 2019
The beer will be the same, but the new rainbow bottles will feature a fun color scheme inspired by the LGBTQ Pride flag and have words of inclusivity and support printed on them along with the Gay Lesbian Alliance Against Defamation logo (GLAAD).
Bud Light and GLAAD have partnered for more than 20 years and this year the new rainbow pride bottles will help by donating a portion of proceeds from each case sold during their limited run.
I love seeing companies support #NationalPrideMonth! Only a month away…many more to come ?https://t.co/gGZyAN4gya

— John Legere (@JohnLegere) May 4, 2019
Bud Light released a press statement announcing the new rainbow-colored bottles and expressed their commitment to the LGBTQ community.
"Bud Light has been a supporter of the LGBTQ+ community since the 80s and we are excited to continue our long-standing partnership with GLAAD by collaborating with them on this new commemorative bottle that celebrates the LGBTQ+ community and everything GLAAD does to support it," Bud Light's VP of Marketing, Andy Goeler said.

"The way we see it, our beer is for everyone to enjoy, so we are looking forward to seeing Pride bottles at bars throughout the month of June and beyond.  With the release of these new bottles, we hope to create something that everyone can feel proud to hold during Pride month that also makes a positive impact for GLAAD's initiatives and the LGBTQ+ community overall."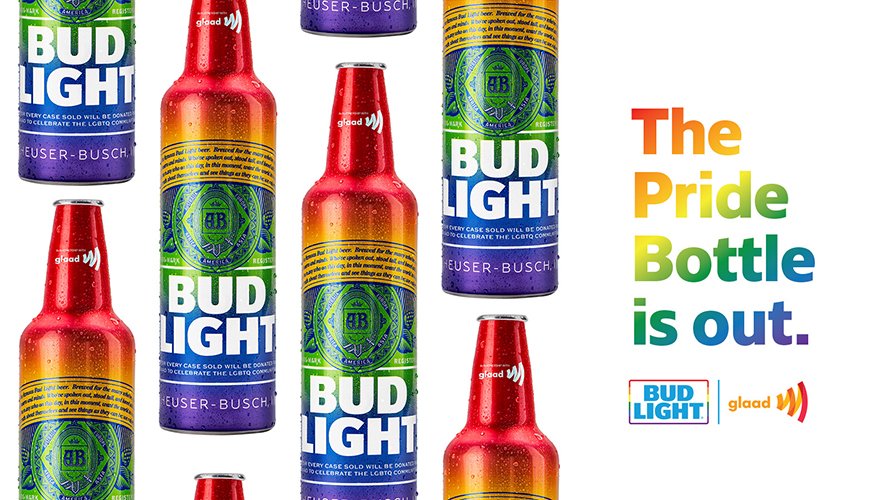 The new limited-edition bottles will be available starting on Memorial Day – May 27th, 2019, and will be sold nationwide until June 30th.
For each case sold, Bud Light will donate $1 to GLAAD up to a total of $150,000 to help the organization in their efforts to create a world where everyone can live the life they love.
Check out the full news report about Bud Light's eye-catching new bottle design below.