Precious Memory Made With Young Country Fan
Country stars always seem to get a kick out of inviting their fans to join them on the stage at their concerts. Often, they're surprised by the talent they find in their audience, as many fans are pretty accomplished singers and musicians themselves.
It's the younger country fans that seem to surprise artists the most, as kids just a few years old jump up on stage and confidently sing every word of a song. That's exactly what happened at Brad Paisley's concert in Glendale, Arizona.
A video from the concert shows Brad sharing the stage with a young boy, who introduced himself as Vedder. Vedder told Brad that he is nine years old, and made it clear that he's a huge fan of his music.
Boy Impresses Entire Crowd Of Brad's Fans
Since Vedder is such a big fan, Brad decided to let him take over the stage for a little bit. He knelt down beside him and started tuning up his guitar for a song, then handed off the microphone to Vedder once he was done.
Brad began playing the opening notes to one of his newest songs, "Last Time for Everything."
The tune was released as the second single off of Brad's 2017 album Love and War, and climbed as high 19th spot on the Billboard Country Airplay chart.
Even though it was a newer song at the time, Vedder seemed to know every word to "Last Time for Everything." He made that clear when he joined Brad for the song, as he took complete command without missing a beat. In fact, Vedder was all prepared to keep on singing when Brad started playing a little ditty to wrap things up!
A Night To Remember…
Once they finished, Brad gave Vedder a special gift so he could always have something to remind them of their performance. Much to the young boy's delight, Brad removed his guitar from around his neck and handed it to him, saying, "Take that."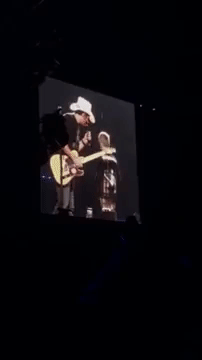 Of course, Brad signed the guitar for Vedder before he dashed back to his parents, who were watching proudly near the side of the stage. "Learn some more songs so I don't have to do this anymore. You can just come up here," Brad said as he sent Vedder on his way.
With a little bit of practice, we have complete faith that Vedder could be a country star some day as well! He certainly has the confidence for it!
Check out the talented little fella's performance with Brad in the clip below.